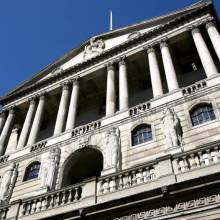 The Bank of England kept interest rates at their record low today despite rising inflation squeezing households' spending power.
Inflation has soared to 4.5% in recent months - more than double the Bank's 2% target - driven higher by the rising cost of essential items such as food and fuel.
But the Bank's Monetary Policy Committee (MPC) voted to keep rates at 0.5% for the 28th month in a row, even though a hike could help to bring inflation down back towards its target.
Key Points
Base rate kept at 0.5% for 28th month in a row
Inflation is at 4.5%, more than double the BOE's 2% target
While the cost of living also continues to rise
The Bank also held its quantitative easing programme at £200 billion.
MPC members have been concerned about the strength of the economic recovery in recent months and more signs of a slowdown have emerged since its last meeting a month ago.
Recent surveys have revealed that growth in the manufacturing and the services sectors have slowed since the first quarter of 2011.
There has also been increasing evidence of a slowdown in consumer spending after retailers including homeware chain Habitat, department store TJ Hughes and fashion outlet Jane Norman collapsed into administration.
Many economists now do not expect a rates rise until next year.
Living costs rising
But at the same time there are signs that the cost of living continues to rise, which spells trouble for cash-strapped families whose income is failing to keep pace with rising prices.
Scottish Power will raise gas and electricity prices by 19% and 10% respectively next month and other energy suppliers are expected to follow.
The British Retail Consortium said food prices rose 5.7% in June - the highest rate for two-and-a-half years.
Borrowers are seeing the benefits of expectations that it will be some months before rates rise, with the average cost of a two-year fixed-rate mortgage falling recently to an all-time low of 4.31%, following a drop in swap rates, upon which the deals are partially based.
But the delay is unwelcome for savers, who will continue to suffer from low returns on their money at a time when high inflation is eroding the value of deposits.
The bank has warned that inflation will rise above 5% later this year and remain above target throughout 2012, before falling back in 2013.
CBI chief economic adviser Ian McCafferty says: "Mixed messages from recent data leave the MPC in a difficult position.
"But with inflation likely to rise to 5% by the autumn, and the economy still gradually recovering, a shift in policy should not be ruled out before the end of the year."