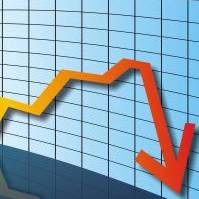 London's leading shares index sustained more heavy losses today as the turmoil engulfing world markets showed no signs of easing.
The FTSE 100 Index opened more than 2.5% lower – off 140 points at 5,253 – amid investor panic over the deepening eurozone debt crisis and health of the US economy.
Key Points
FTSE down 140 points to 5,253
£50bn wiped off pension and savings funds
Dow Jones Industrial Average plunged 4.3%
The FTSE 100 registered its biggest fall of the year yesterday – shattering pensions and savings funds as it wiped £50 billion off its value – while Wall Street's Dow Jones Industrial Average plunged 4.3%, one of its worst ever falls.
The picture was just as bleak in Asia where Japan's Nikkei 225 slid 3.7% and Hong Kong's Hang Seng dropped 5%.
The plunge in share prices came amid rising fears that Italy and Spain, the eurozone's third and fourth largest economies, could default on their debt and require EU-funded bailouts.
The FTSE 100 Index plunged to its lowest levels since early September last year, while Germany's DAX fell 2.7% and the Cac-40 in France dropped 2.2%.
The banking sector suffered the greatest falls in London – including a 14% drop for Royal Bank of Scotland, which today published half-year results revealing a £794 million loss.
Lloyds Banking Group fell 10% to around half the price the Government paid for its shares in its £21 billion bailout while Barclays also dropped 10%.
Richard Hunter, head of UK equities at Hargreaves Lansdown Stockbrokers, says: "The markets are in catch-up mode in early trade, having missed some of the late sell off in the US and a weak overnight performance in Asia."
Recent problems
World markets have been on a downward trajectory in recent weeks as the US debt crisis added to ongoing concerns in Europe.
The vast spending cuts outlined in America's debt-limit deal raised fears over the world's biggest economy falling back into recession.
Meanwhile, some traders and analysts are expecting the US to be stripped of its AAA credit rating, in light of recent weak economic data and its debt-laden public purse.
Elsewhere, European Commission president Jose Manuel Barroso fuelled fears after he called for a "rapid reassessment" of the eurozone's multi-billion euro rescue fund as he said new powers granted just two weeks ago were insufficient to contain the current crisis.
The FTSE 100 Index closed down 3.4% last night – its biggest daily drop since March 2009.
The Dow Jones lost 512.76 points, which was the steepest points fall since December 2008. It was the ninth worst fall by points for the Dow.