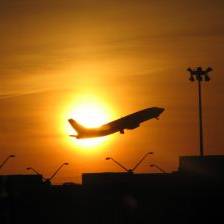 The Airmiles reward scheme is to be completely revamped which will result in hundreds of thousands of travellers having to pay taxes and charges when redeeming flights.
At present, the 2.2 million members of the scheme don't pay these additional costs, which are standard on other flight reward programmes, that can amount to hundreds of pounds per journey.
Members have three and a half months before miles devalue to use them.
What's happening?
Airmiles is effectively being merged with the British Airways Executive Club and Iberia Plus, which are the frequent flyer programmes for both airlines, which joined forces earlier this year.
Airmiles will be called Avios when it relaunches on 16 November, with points called Avios miles.
The British Airways Executive Club and Iberia Plus brands will remain, but points will be called Avios miles from the same day.
Avios miles will be worth the same, regardless of which programme passengers belong to.
A new map of destinations, split into zones based on the number of points required, has also been drawn up. Some will benefit but others will suffer from the new points regime.
What should you do?
While new scheme launches on 16 November, travellers can still book using Airmiles in their current form until 15 December for travel within 12 months.
But after this date they will devalue so members must use them before to get the same benefits as now, namely not having to pay taxes and charges.
However, between 15 November and 15 December redemption must be done by phone, as the website will become the Avios website.
In that period, members can choose whether to use points as Airmiles or Avios miles.
There will be some instances where the change could benefit travellers by giving more flexibility. However, members will still pay more than now in cash.
What happens to my Airmiles and BA points?
All Airmiles balances will be multiplied by ten and turned into Avios miles to bring them in line with the value attributed to BA miles.
BA miles will be renamed Avios miles with no change in their value.
Iberia miles will be multiplied by 15 to bring them in line with the BA value.
Anyone who is a member of more than one of the three schemes will be able to move points between them with no penalty.
Airmiles says the Avios scheme will be better for irregular travellers and the BA club will be best for business or frequent travellers.
While Avios miles are worth the same regardless of scheme, BA members also earn credits that can be used for extra benefits such as the use of airline lounges.
Points on all three schemes will expire after three years of no collection or redemption activity.
How does the change affect points collection on Airmiles (Avios)?
Here, there is little change.
Existing Airmiles customers will still be able to collect from exactly the same partners, such as by using Tesco Clubcard points or the Lloyds TSB Duo credit card.
The only difference is purely an accounting change whereby the number of miles earned will be multiplied by ten.
So, for example, 250 Clubcard points will be worth 500 Avios miles instead of 50 Airmiles.
Avios customers will be able to earn miles on BA and Iberia flights, which is not possible now.
How does the change affect points collection with BA?
BA members can still earn points in the same way when flying on BA and its partner airlines, plus via certain other partners such as hotels, car hire firms, Tesco Clubcard and some American Express credit cards.
I'm an Airmiles member. What's the impact on spending?
The key problem is passengers will soon have to pay taxes and charges on flights, which were previously included when purchasing travel using Airmiles.
On a return from London to Barcelona on BA, the charge is between £71 and £96. On a New York return it is approximately £300.
However, there will be a cap of £27 on charges for European bookings for anyone who has collected at least one Avios point in the preceding year.
On points required, Airmiles says that of the current top 20 destinations from London, travellers will require fewer points on five routes, more points on seven with no change on the rest. This assumes the current points required are multiplied by ten.
There are some benefits, though. Avios customers will be able to book one-way and open-jaw tickets (eg, London to New York, Boston to London), while flights departing from a non-London UK airport will no longer be subject to a 500 Airmile supplement. They will also be able to use miles for cabin upgrades.
None of those options are currently available.
Airmiles members will still be able to book non-flight rewards, as they can now.
I'm a British Airways Executive Club member. What's the impact on spending?
The major difference will be the new zone map, which brings mixed benefits.
The number of miles required for most European routes is similar.
Some medium-haul destinations such as Larnaca and Tel Aviv will require 25,000 miles instead of 20,000.
However, anyone going to New York or Washington will need 40,000 miles instead of the current 50,000.
BA members pay taxes and charges on flight rewards. This doesn't change, though will also get the £27 cap on European bookings as long as they have collected miles in the previous 12 months, which means cheaper costs.
BA members will be able to redeem on many non-flight rewards, such as hotels and car hire, under the new scheme, which they cannot do now.
Anyone with a BA Amex credit card will still get a free companion ticket (though they pay the taxes) when they spend £20,000 a year on the card and buy a BA ticket themselves.
If you've got any questions you'd like us to ask Airmiles/Avios to help you, please suggest them in the discussion link below.