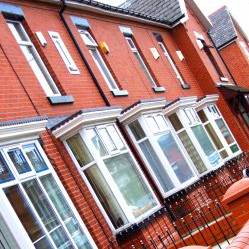 House prices continued to "tread water" last month with a 0.1% rise, mortgage lender Nationwide said today.
The typical price was £166,256 - up from £165,914 in August when there was a 0.6% month-on-month fall.
Key Points
0.1% rise in house prices in September
Prices 0.3% lower than September 2010
Quarterly figures saw 0.5% drop on same time last year
Robert Gardner, Nationwide chief economist, says prices remained flat over the year, at 0.3% lower than September 2010.
Gardner says: "Sluggish demand for homes on the back of weak labour market conditions, combined with only a gradual rise in the supply of available properties, has helped to keep property prices fairly stable since the summer of 2010.
"We expect this trend to be maintained over the remainder of 2011, although downside risks have increased as UK and global growth prospects have weakened."
Nationwide also released its quarterly figures for June to September, when the typical UK house price was £166,597.
This represents a 0.5% drop on the same time last year and a slightly less steep fall of 0.1% on the previous quarter.
Regional prices
The "outer metropolitan" region saw the largest quarterly growth, with a 1.6% rise, making average house prices £249,630.
This region covers London commuter belt hotspots including areas in Hertfordshire, Buckinghamshire, Kent and Surrey.
London homes saw a 1.9% fall on the previous quarter to £295,024, but annual growth of 0.5%.
Wales enjoyed its third quarter of price rises in a row, with a quarterly 0.2% increase to make the typical home worth £138,849, also up 0.2% on the year.
The Welsh capital Cardiff was the most expensive but also saw the biggest drop, with a 2% year-on-year fall.
Prices in Scotland fell by 0.5% over the three months, averaging £137,846 and down 1.1% on the year.
Northern Ireland also saw falls, with a 4.1% quarterly reduction leading to prices averaging £118,723, down 9.3% on the year.
Bradford saw a 9% annual increase, the highest in the country, to make the average house price £159,956.
Belfast witnessed a 12% drop over the year to make the typical home worth £171,208.