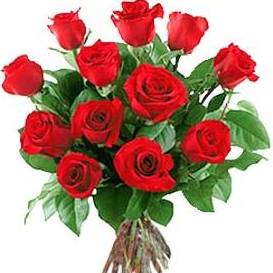 Some loved-up couples have been left frustrated after major flower firm Serenata cancelled a number of Valentine's Day orders at the last minute.
We've received complaints from angry customers who had a dampener put on the most romantic day of the year after the company sent an email cancelling their orders between 10pm and 10.30pm on Monday night, when many were already in bed.
To put the problem into context, when we asked for feedback on Serenata, many also told us their flowers arrived on time, so this may not be a widespread issue. But we have seen enough complaints to suggest it's affected a significant number.
We've also received complaints about orders going wrong at Interflora, as well as sporadic issues with other companies, but not to the same extent as the problems at Serenata.
When we contacted Serenata for an explanation, managing director Peter Ahl said the issues were largely down to customers giving the firm incorrect addresses.
But many buyers deny this, while the company itself hinted on Facebook that huge demand was partly to blame.
Raging romantics
Richie Innes, from Fife, contacted us on Twitter to say: "Can you thank Serenata flowers for cancelling my Valentine's order and notifying me at 22:14 last night when I was asleep. Grr."
Claire Thomas, from West Sussex, also said on Twitter: "They cancelled my husband's order at 10.30pm."
In one email sent to a member of the MoneySavingExpert.com team, cancelling his order at 10.15pm last night, the company claimed he'd entered an "invalid or incomplete" address.
Yet his account shows his address was entered correctly.
As well as cancelling orders at the last minute, others who paid extra for a morning delivery say their flowers were late.
We featured a Valentine's flower deal from Serenata in our email last week, while the company also scored well in an assessment from consumer lobby group Which? last year.
Deborah Heston, MoneySavingExpert.com deals analyst, says: "This must be very disappointing for those who've had problems.
"This is a big company but it seems to have bitten off more than it can chew.
"It should be able to cope with high demand as it is not a fly-by-night player. In future, we will warn people what has happened this time."
What Serenata says
Serenata's Facebook statement says: "We are very sorry that some of the before-noon deliveries have not been delivered on time. We are investigating this with our courier and where customers are affected, we will gladly refund the extra paid for this delivery service.
"We're also sorry that we had to cancel a small number of orders last night. We contacted customers as soon as we were able to and offered a discount off our same-day range. However, we fully appreciate that for some customers this was less than satisfactory.
"Our courier is doing its very best to deliver all orders in a timely manner. As we're sure you'll all appreciate, they are very busy but are pulling out all the stops to ensure every recipient is happy."
Inferflora problems
Customers of flower giant Interflora have also reported Valentine's Day problems.
Reports have come in on Twitter of some receiving dead flowers and other incomplete orders.
The company says it's taken on extra staff to deal with what is its busiest day of the year but says that, unfortunately, things sometimes go wrong.
Had a flower order cancelled, delayed or was it incomplete?
If you've been affected by today's problems then contact the firm in question (though it may be very busy today) and ensure you get your money back if the order was cancelled or the wrong items were delivered.
If you paid for early delivery and it didn't arrive on time, ask for the extra you paid back too.
Also ask for money off a future order. Serenata, for example, offered the MSE staff member 20% off a delivery tomorrow. It had no idea he worked at MSE.
If you're planning on buying flowers this evening, see our Valentine's Deals page for the latest in-store bargains.