Valentine's Day 2022 deals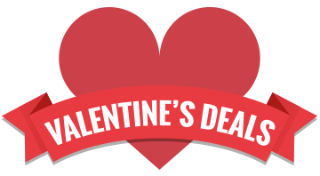 If you're celebrating Valentine's Day this year, we've a bouquet of cheap gift ideas that'll keep the costs low and the romance high.
Romance is lovely, but over-commercialised pressure isn't and there are plenty of free things you can do instead of buying gifts. Why not snuggle up with a movie on Freeview, bake each other special treats or do some virtual stargazing online?
Yet if you are going to spend (there's no need), we've rounded up the top deals below. We'll be updating this page over the next week or so with more free and cheap gift ideas.
We don't currently have any deals.
WARNING! Things can go wrong with the delivery of flowers, and in the past we've featured deals from several floristry firms only to be swamped with sad messages after flowers didn't arrive or, worse, arrived dying or dead. Hopefully that won't happen to you, but there's always a risk, so weigh that up before buying.

We don't currently have any deals.
We don't currently have any deals.
We don't currently have any deals.
We don't currently have any deals.
If you buy the May 2022 issue of BBC Gardeners' World magazine, it comes with a pass giving 2for1 adult entry to 390+ UK gardens. It's £7.50 at supermarkets and newsagents until Wed 25 May, or while stock lasts. Alternatively, it's from £9.75 delivered online at Mags Direct if you can't find a copy in-store.

The pass is valid at Kew Gardens, Leeds Castle, Warwick Castle, The Alnwick Garden, 38 National Trust gardens and hundreds more. You can use the pass as many times as you like and it's valid for a year until 7 Apr 2023 – see 'More info' below for how the 2for1 pass works.

The Eden Project isn't included this year. It's been one of the popular 2for1 gardens in previous years, but Gardeners' World has confirmed it is not included this time.

The magazine also comes with six free packets of seeds normally costing about £14 (except in Northern Ireland, you'll only get the 2for1 gardens pass).

Seeds included with the magazine:

Zinnia Jazz, usually £2.55

Gypsophila Covent Garden, usually £2.65
Parsley Flat Leaf, usually £2.15
Lettuce Salad Bowl Red/Green, usually £2.15
Basil Sweet, usually £2.15
Nigella Miss Jekyll, usually £2.15

The following applies to the year's 2for1 garden pass:


To use the 2for1 garden pass card, check it's valid on the day you want to visit (individual gardens may have excluded dates, such as Christmas) and then simply turn up with the card at any of the gardens listed.

You can use the 2for1 card as many times as you like, but even if you visited just one garden costing more than £8-£10, which most gardens we found were, it's worth buying the magazine if you're going to be visiting with someone else.

If you're taking kids, it's important to note that while this is 2for1 on two adult tickets, BBC Gardeners' World says it's down to the individual garden if it'll accept a child as the second ticketholder. Before you make the trip, it's worth asking those gardens that charge a significant amount for kids' tickets.

It's valid for garden entry only (unless the guide says you can enter other parts of the grounds).

It can't be used with any other offer and excludes groups – group size will vary per garden so check ahead.

Going on your own? Get up to 50% off

Some gardens also give up to 50% off adult individual tickets with the same card – see the magazine guide or Gardeners' World website for details.

For all the latest deals, guides and loopholes simply sign up today – it's spam-free!
These are some of the cheapest prices we see throughout the year for prosecco and champagne. While the very cheapest time is usually during the festive period, many of the prices of the bottles below are the same as they were then, so this can be a corking time to buy.