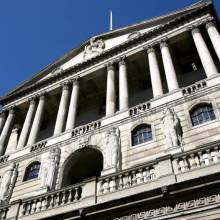 Three years of rock-bottom interest rates will pass today with little sign that the Bank of England is set to ease up on its emergency support.
Experts think rates will remain at 0.5% until the end of next year and possibly for as long as three more years, adding to the pain for savers.
On the third anniversary of its decision to slash rates to a record low, this week's meeting of the bank's monetary policy committee is expected to be low key, with no change expected in rates or its 'money-printing' programme.
The quantitative easing scheme was also unleashed three years ago and last month received a further injection of £50 billion to take the total to £325 billion, despite the risks it poses to the country's inflation rate.
Measures are 'painful' for savers
The measures have been particularly painful for savers and those approaching retirement, although most homeowners have benefited, given the bank's base rate stood at 5% in October 2008.
Since the bank starting cutting borrowing costs, the typical savings rate has plummeted from 6.52% in 2008 to 2.78%.
For those who reached retirement age in that period, annuity rates fell from 6.93% to 5.86%. This is because annuities are linked to yields on government bonds which have been reduced by the quantitative easing programme.
It is thought more than £100 billion is sitting in accounts which pay no interest, according to Bank of England figures, compared with around £15-£20 billion in the years before the financial crisis.
Mortgage payments for new borrowers have reached their most affordable levels for 14 years but there are signs this trend is on the turn after the Halifax this week increased charges to reflect its own higher funding costs.
The bank's governor Sir Mervyn King has repeatedly expressed his sympathy for savers but says the stimulus measures are needed to help the economy.
Current rate may last years
Vicky Redwood, chief UK economist at Capital Economics, says that when rates first fell to 0.5% they were expected to stay there fairly briefly.
But with the UK facing a prolonged period of austerity measures, a sluggish economic recovery and weak bank lending, Redwood says she would not be surprised if they stayed at their current level for another three years.
She adds: "Remember that when interest rates hit their previous record low of 2% in 1932, they stayed there for pretty much two decades."
Philip Shaw, an economist at Investec, adds: "It would take a seismic change in the economic and inflationary landscape to bring proposals for higher interest rates back to the table."