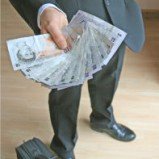 Low and middle income earners received a boost today as Chancellor George Osborne revealed the personal tax allowance will rise for the under 65s, but pensioners will lose out.
Anyone aged up to 64 currently pays no tax on the first £7,475 they earn, rising to £8,150 as planned in April. This threshold will now rise again, to £9,205, in April 2013.
This is part of the Government's plan to eventually raise the allowance to £10,000.
Osborne says low and middle income earners will be £220 better off per year when this kicks in. Higher rate payers won't benefit to the same extent as more will fall into that 40% category. The Government says higher rate payers will only see a quarter of the gain.
The threshold for paying 40% is currently £42,475, and will remain so from April when the next tax year starts. In April 2013, it will fall to £41,450.
Blow for pensioners
However, Osborne said he will freeze the personal allowance for existing pensioners until it is aligned with the general allowance which everyone else pays. This means they will pay more tax as a proportion of their income.
Those aged 65-74 currently get £9,940 tax-free and those 75 and over get £10,090. These rise to £10,500 and £10,660 respectively in April
As pension payments rise, if they earn above the frozen allowance levels, more of pensioners' income will be liable for tax under a process known as fiscal drag.
This move is estimated to raise £3.3 billion in tax for the government over the first four years of the pensioners' allowances being frozen.
Anyone who reaches 65 from April 2013 will get the general personal allowance instead, so eventually, there will be no age-related personal allowance.