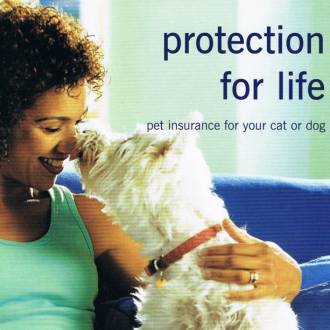 There is hope for thousands of Halifax and Lloyds TSB customers who fear their cats' and dogs' lives are at risk after the sister banks axed pet insurance, following a landmark judgement.
The cancelling of insurance led to howls of anger among pet owners, many of whom took to our forum to vent their fury.
Halifax has been told by the independent disputes arbitrator, the Financial Ombudsman Service, to continue covering a pet with a pre-existing medical condition for three years even though it no longer provides insurance, after the owner complained. This ruling could become a precedent for thousands of similar cases.
It was judged to have "not handled fairly its decision to withdraw from the pet insurance market nor has it provided clear information for the customer to make an informed decision".
Lloyds Banking Group (LBG), which runs both banks, quickly followed today's announcement by stating it is working on a "solution" for all affected customers.
The chief issue with axing insurance is many owners are unable to fully cover their pets, which could leave some facing the choice of paying expensive vet bills or feeding their family.
Insurers do not normally cover pre-existing pet conditions, so owners whose animals have developed a problem since taking cover with Lloyds TSB or Halifax wouldn't find cover for that ailment elsewhere.
And if treatment is ongoing as part of a claim, customers will have to pay for the remainder themselves once the policy ends.
Ombudsman ruling
One of the Ombudsman's senior executives, Tony Boorman, today ruled in an unnamed consumer's favour after she complained.
Ms W (as she is referred to) had cover since 2005 but now faces £720-a-year vet bills after her dog developed a problem.
Halifax has been told to pay Ms W £200 for distress, but crucially, it must also top up any cover she buys elsewhere for three years.
Boorman explains: "My preference is for Halifax to provide some assurance to Ms W that, so long as she maintains insurance cover with another provider, it will 'top up' that cover – by paying for any condition requiring treatment the new insurer will not cover because it is pre-existing, but first occurred during the period for which Halifax provided cover.
"I suggest these top-up payments are provided for the next three years ... I ask Halifax to consider how this could be achieved for Ms W (and for others in a similar position)."
Boorman criticised Halifax for its marketing, which gave the impression cover was 'life-long' when the axing of cover showed it wasn't.
He says this "failed to alert customers of the limited impact of the commitment Halifax was making".
Last month, we revealed Lloyds TSB's and Halifax's marketing material made it seem cover was for life (see the 'Life-long' Halifax/Lloyds pet cover MSE News story and image, top right).
Boorman also said he has "significant reservations about the way Halifax communicated its decision" as it told customers too late.
However, he says it was within its rights to withdraw cover.
The comments were made in a provisional judgement released today. Both sides have the opportunity to dispute them, though LBG appears to accept it has to placate angry pet owners now.
What will Lloyds Banking Group do now?
A LBG spokesman says: "We acknowledge our decision to withdraw from the pet insurance market has caused concern among some customers.
"We are urgently working on a solution for customers with pets who have pre-existing conditions and will be contacting them in the next few weeks with our proposals.
"If any customer wants to check if they are affected, they can contact us. We are committed to continuing to support our customers and are sorry for the inconvenience we may have caused."
Lloyds says just over 25,000 owners had or have pet insurance with the two brands, but only "a fraction" of those insured pets have developed a condition since their owners took out cover.
Existing Lloyds TSB annual policies still run until expiry, but any that end after 1 February won't be renewed. Lloyds stopped selling new policies in October last year.
Halifax stopped selling new policies last August and stopped renewing cover in September.
Our view
Martin Lewis, MoneySavingExpert.com creator, says: "Halifax should never have canned this cover for those with pre-existing conditions.
"It's good to see it finally acknowledging it royally cocked up – people will never forgive an institution they blame for having to have their pets put down.

"The first time I spoke about this on TV it fought tooth and nail for the first few weeks – including outrageously trying to claim that even though the front of the policy document said 'lifetime cover' the fact it wasn't in the Ts&Cs meant that didn't matter.
"Last week it apologised and the rhetoric coming out of it is now adds to that.

"The fact the Ombudsman has prioritised this and got a decision out quickly is important too. All the signs are now pointing to Halifax and Lloyds needing to pay out to their let-down customers."