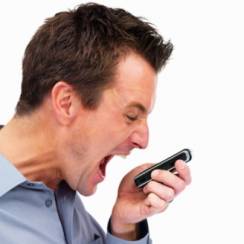 T-Mobile will hit millions of its pay monthly customers with price hikes from May.
The mobile phone giant will up the cost of monthly plans by 3.7% from 9 May, blaming "high inflation" for the revised contract terms.
On a £15 monthly plan, this would represent a 55p monthly or £6.60 annual increase. A £60 plan would become £62.22, adding £26.64 a year. Calls, texts and data charges will not rise.
T-Mobile won't allow customers to leave their contract early as its terms state inflation-linked price rises are allowed.
Sister mobile firm Orange, which like T-Mobile is part of the Everything Everywhere group, raised costs by 4.34% in January, for the same reasons.
It too didn't allow contracted customers to switch without charge. Regulator Ofcom ruled it was within its rights to do so.
Who is affected?
Only pay monthly customers who signed-up to their current deal before 1 February will see costs rise.
T-Mobile says anyone who has signed up since then already has the inflation rise factored into their deal.
T-Mobile will write to customers from today to notify them of the hike.
A T-Mobile spokeswoman says:"We are sorry to say we will be increasing the price of some of our monthly plans by 3.7% from 9 May 2012.
"The increase is a result of the rising costs of the business, linked to inflation, as well as our desire to continually invest in our network and propositions to provide the best service for our customers."
T-Mobile has set up a webpage for customers to get more information on rises.
What can you do about it?
You can still make a complaint though your chances of success are limited, it must be stressed.
These are still early days, but using the Orange example, Ofcom stressed its exoneration of Orange in December only related to the fact it didn't believe the company broke any rules.
However, it said anyone who believes they suffered "material detriment" from the hike could still complain to the mobile firm to try to get out of their contract penalty-free.
Ofcom rules state: "Providers shall give subscribers adequate notice not shorter than one month of any modifications likely to be of material detriment.
"Providers must allow subscribers to withdraw from their contract without penalty upon such notice."
The question is, therefore: what is "material detriment"?
The Ofcom spokeswoman added at the time: "Whether or not individual consumers suffer material detriment will depend on the individual circumstances in each case, and customers can still contact Orange if they think they have or will suffer material detriment."
The Ofcom decision is likely to weaken any case, but Orange or T-Mobile users can still register their distaste if they want to exit their contract penalty-free.
How to complain
First complain to T-Mobile if you feel you should be allowed to exit your contract penalty-free.
If you're rejected or you don't get a satisfactory response within eight weeks you can make a complaint through CISAS, a free, independent dispute resolution scheme.