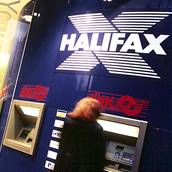 As over one million Halifax and Royal Bank of Scotland mortgage holders face the daunting prospect of a huge jump in their mortgage payments, what are the chances of other lenders adding misery for even more households?
Prominent mortgage brokers do not expect a domino effect, whereby swathes of other banks and building societies hike rates. But they warn there is a chance some will raise costs for cash-strapped borrowers.
Key Points
Over a million face mortgage SVR hikes
Other lenders could follow but domino effect 'unlikely'
Some borrowers on 2.5% rates protected
Mortgage lenders generally have free rein to raise their standard variable mortgage rate (SVR), which is the rate most deals revert to after an introductory period, even though the Bank of England base rate has remained at its 0.5% historic low for three years.
Halifax has now taken advantage of this freedom, resulting in 850,000 of its borrowers set to pay a typical £200 more per year from May. Over at RBS, its rises are restricted to 200,000 customers with offset mortgages, so its decision does not affect its SVR.
Both Halifax and RBS blame a rise in running costs because the eurozone crisis has pushed up the cost of borrowing from other banks, plus the fact they need to pay savers much higher rates than the 0.5% base rate.
'No domino effect'
Ray Boulger, from broker John Charcol, says: "I don't expect a general follow-on.
"What Halifax and RBS have done is catch up with the rest of the market. Of the top six big lenders, their SVR for new borrowers is between 3.89% and 4.24%. Some have even higher SVRs.
"Had they gone higher than their peers, then others may have raised rates.
"Other lenders have the same funding issues but this is reflected more in a rise in rates of new mortgages."
David Hollingworth, from broker London & Country, agrees: "I would not expect a domino effect. Maybe one or two, but not the whole market."
Some are protected
Not all lenders can raise their SVR, as some have guarantees built into the terms and conditions.
Cheltenham & Gloucester, Lloyds TSB and Nationwide borrowers who pay a market-low 2.5% SVR will not see their rate rise unless the base rate jumps. Their rate is guaranteed to be within two percentage points of the base rate.
But not all of those lenders' customers enjoy 2.5% mortgages. C&G and Lloyds borrowers who took out a mortgage from 30 June 2010 will pay a 3.99% SVR. Nationwide customers who took out a home loan from 30 April 2009 will pay a 3.99% SVR.