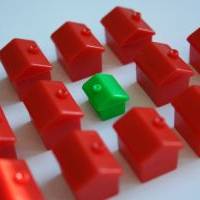 A group of mortgage holders face an unprecedented rise in home loan costs after Manchester Building Society decided to raise tracker rates for existing borrowers, even if the base rate remains unchanged.
This could add £3,230 a year to repayments on a typical mortgage, given some rates will more than quadruple.
In a separate blow, Manchester will also force some borrowers from interest-only to repayment mortgages, which could also add thousands of pounds A MONTH to repayments.
Key Points
Manchester BS breaks tracker mortgage deals
Some rates to rise from 0.99% to 4.74%
Some forced off interest-only deals
Monthly payments could rise by £1,000s
The news has enraged homeowners, who say Manchester is "moving the goalposts", especially as trackers are normally directly linked to the Bank of England's base rate.
The society has invoked contract clauses — which it says allow both moves — that many borrowers may have been blissfully unaware of.
While Manchester is a small lender with 5,000 mortgage customers, it risks setting a dangerous precedent were other lenders with similar clauses to follow.
The news is another blow to mortgage holders. Later this year, more than a million borrowers with other lenders face rises in their standard variable rates (SVR), which most mortgages revert to after an introductory period.
Manchester's rate rise explained
The lender says a clause in many borrowers' contracts allows it to de-link trackers from base rate after five years.
Those affected are largely borrowers with loans taken out in 2004 or earlier, though Manchester cannot rule out similar action on more recent loans.
Its lowest current tracker is base rate plus 0.49% points, giving a current 0.99% rate for the life of the loan.
Rises will take place over two years. Borrowers will get a year's notice before the first increase, to Manchester's SVR minus 1.5% points. Based on the current 5.49% SVR, the new mortgage rate would be 3.99%.
A year later, the rate would become SVR minus 0.75% points — at present, 4.74%.
Moving from 0.99% to 4.74% adds £270 a month, or £3,230 a year, to costs on a £150,000 repayment mortgage with 15 years remaining. Most affected borrowers have already been contacted.
One Manchester borrower, jk38, says on our forum: "I signed up for base rate plus 1% (yes, I read the contract).
"It hasn't always been low, and then, I had to accept it was tough luck.
"Now the base rate hasn't gone in their favour, they are introducing a new rate. They are moving the goalposts."
Manchester won't say how many of its mortgage holders are affected by the hike.
Forced off interest-only
In a separate move, some Manchester borrowers have been told they must switch from a mortgage which allows them to pay the interest only, and the loan itself on maturity, to a repayment mortgage. This is where payments cover both the interest and the debt.
The society, which says only 10 borrowers have been hit by this particular move so far, says another clause allows it to make this change after five years.
Those hit have been given two to three months' notice. More with this clause could be hammered by this change in future.
It says those moved from interest-only to repayment are only those on loans typically over £250,000 which it considers a greater "credit risk".
To highlight the scale of possible payment hikes, on a £500,000 debt and 10 years remaining, moving from interest-only to repayment would add a mammoth £4,160 a month to repayments.
While this debt has to be paid eventually, many borrowers may not have this cash yet, possibly relying on selling their home.
Manchester says it will listen to borrowers who cannot afford a hike and will try to negotiate "alternative options".
What Manchester says
Manchester executive director Ian Richardson says: "The society has the option to give twelve months' notice to certain borrowers to end the linkage to base rate on residential mortgages.
"Having deferred a decision since early 2009, it was concluded late last year it was appropriate to apply the notice.
"We recognise the duty we have to all our members and in particular the competing interests of both our savers and borrowers, bearing in mind for every borrowing member we typically have seven savings members."
What should you do?
Martin Lewis, MoneySavingExpert.com creator, says: "When is a tracker not a tracker? When it's from Manchester Building Society it seems.
"While there's an excuse for it in the contract, and of course it's been giving seriously cheap mortgages for a while, I thought building societies were meant to show more consideration.
"For a base rate tracker not to track base rate doesn't fit. Even with the clause, I would suggest customers who feel it's unfair should complain to the society.
"If that fails, then be aware of your rights. You can take it to the Financial Ombudsman Service as it doesn't just need to focus on the law, it can look at whether it's fair and what standard practice is."
David Hollingworth, from broker London & Country, has not heard of other lenders de-linking trackers from base rate during the mortgage term.
He says affected borrowers should check their offer letter for the clause to ensure Manchester is playing by the rules.
Other rate hikes
Bank of Ireland, Co-op, Clydesdale/Yorkshire and Halifax banks have all announced rises in their SVRs for later this year, with over a million borrowers hit. RBS has also raised rates on 200,000 of its offset mortgages.
In 2010, Skipton Building Society ripped up a guarantee its SVR would stay within three percentage points of the Bank of England base rate, using a clause which allowed it to do so in "exceptional circumstances". It then raised the SVR from 3.5% to 4.95%.
A spokesman for the regulator, the Financial Services Authority, says: "Our Principles for Businesses make clear that a firm must treat its customers fairly and communicate with them in a way that is clear, fair and not misleading."