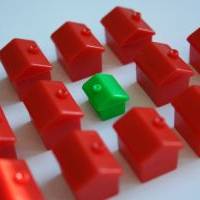 Borrowers left with sky-high mortgage rates because they cannot switch home loan need extra protection to avoid potentially crippling bills, according to an advisory group.
The Financial Services Consumer Panel says these 'mortgage prisoners' could be unable to switch to a better deal under proposed new rules planned by the regulator, the Financial Services Authority (FSA), to toughen lending criteria.
A typical 'mortgage prisoner' is someone who borrowed 100% of their property's value before the credit crunch, but now owes more than their home is worth because their house price has dropped, putting them in negative equity.
Their vulnerability has been highlighted recently after a number of lenders decided to raise their standard variable rates, which borrowers usually revert to after an introductory period.
The panel, which advises the FSA on consumer issues, believes the regulator should introduce a new rule specifically to protect these consumers, which would allow banks and building societies to lend to them.
What are the new rules?
The new rules proposed by the FSA's Mortgage Market Review are likely to set in stone next year what are currently voluntary measures by lenders to tighten criteria.
Those with a poor credit history, or less than 10% equity, already struggle to get a home loan.
Even then, self-employed people with less than two years' accounts also currently struggle, while lending on an interest-only basis has also got tougher. Some lenders now demand a 50% deposit on interest-only loans.
Why have the rules been proposed?
The review is an attempt to ensure mistakes which took place before the credit crunch, where banks and building societies failed to properly vet borrowers, leaving many with unaffordable payments, never happens again.
More than 120,000 people saw their home repossessed between 2009 and 2011 as they fell behind on mortgage payments, according to the Council of Mortgage Lenders.
Had the Bank of England's base rate not been at its 0.5% historic low for the past three years, even more would have lost their homes.
What does the Consumer Panel want?
Adam Phillips, Consumer Panel chair, says: "The FSA is undoubtedly right to bring forward proposals for stricter regulation of the mortgage market, given the chaos which resulted from weak regulation.
"However, we remain extremely concerned many people, in particular those affected by the recent rises in lenders' SVRs, will find the increase in their monthly mortgage repayments challenging.
"These increases are inconsistent with the principle of treating customers fairly and could be addressed if the FSA introduces a new rule as we suggest."
The FSA has already said it won't stop providers from lending to those in negative equity who have kept up with payments, though they wouldn't be able to borrow any more.
But this won't be a specific rule. The panel wants this set in stone to offer greater protection.
SVRs rising
Halifax is raising its SVR for 850,000 borrowers from 3.5% to 3.99% on 1 May.
Another 30,000 Clydesdale/Yorkshire Bank customers will see their SVR jump from 4.59% to 4.95%, and 54,000 Co-operative Bank and Britannia homeowners will see their SVR rise from 4.24% to 4.74%, also on the same day.
Meanwhile, 200,000 RBS customers with an offset mortgage will pay a standard rate of 4% in May, up from 3.75%, though many of those saw that rise in March.