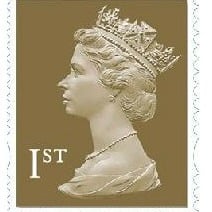 Royal Mail has imposed a cap on the number of stamps every shop can buy, which could leave consumers unable to stockpile ahead of a price hike this month.
The postal service says the move is to stop retailers cashing in, but as buyers have been scrambling for stamps, leaving some stores dry, it could limit supply for the public.
The price of first-class stamps will increase from 46p to 60p and second class from 36p to 50p from 30 April.
Many consumers are also buying now, to sell at a profit after the rise. When site founder Martin Lewis wrote on the subject this week, his blog was extremely well read, and we've heard reports of people seriously stocking up.
New cap
The postal service has capped the number of stamps stores can order between now and 30 April so they don't buy a year's worth upfront, for example. It says the cap will vary by store.
This is to prevent shops cashing in by buying cheap now and selling at the higher price later.
Royal Mail says the revenue from the increase is needed to maintain the six-day postal service as it has lost £1 billion over the last four years.
But if a retailer genuinely runs out Royal Mail will decide how many more stamps should be allocated at current prices to meet any "real customer demand".
Stockpiling
Martin Lewis says the rush for stamps is "completely unprecedented in my memory". He adds: "People are stockpiling. Loads of people are buying over £500-worth of stamps for all sorts of reasons."
Ian Murray, the shadow postal affairs minister, told the Daily Telegraph: "The disproportionate rise in the cost of stamps will have a significant impact on small businesses and those on low incomes.
"It's understandable that those who will bear the brunt of the increase will want to stock up before the price increase."