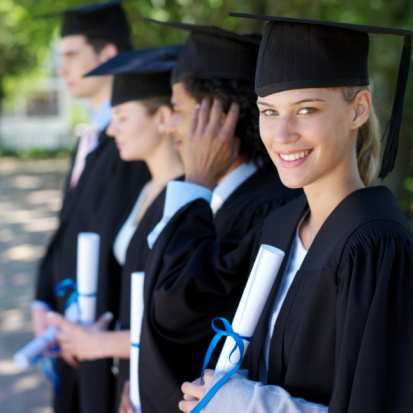 Graduates are likely to see a fall in the interest rate, or maximum interest, they pay on student loans from September.
They are likely to pay 1.5% or 3.6%, depending on when they started uni. However, students who start in 2012 face a much higher 6.6% interest charge.
March's inflation figures show the retail prices index (RPI) at 3.6%, the Office for National Statistics (ONS) announced today.
The Student Loans Company uses the RPI figure as a key measure to set its interest rate. It usually uses the March figure for the next academic year.
Pre-1998 loan rates. As graduates who took out a loan before 1998 usually pay interest at the March RPI level, they are likely to pay 3.6%, down from the current 5.3%.
Post-1998 starters. They would see the maximum they could pay fall from 5.3% to 3.6%. The actual rate, though, will stay at 1.5% for as long as the Bank of England base rate stays at 0.5%, as it has done for over three years. These graduates pay the RPI figure, though if the Bank of England base rate plus 1% is lower than the March RPI figure, the rate reduces to that.
The Department for Business Innovation and Skills (BIS) hasn't confirmed these rates. It says they will be formally announced in August.
Around 320,000 have outstanding pre-1998 loans, while 4 million have post-1998 loans.
Martin Lewis, MoneySavingExpert.com creator, says: "If you've got an outstanding student loan, don't be in a rush to pay it off too quickly.
"For the majority on loans at 1.5% you'd earn more sticking any spare money in a high interest cash ISA rather than repaying the loan.
"For those who'll likely be on 3.6%. think twice about overpaying now, as once you make the payments they're gone – so if you're likely to get other more expensive debt, like a mortgage or car loan, you're better off keeping the cash liquid until you need it."
September 2012 starters
Those who start university from September 2012 will pay interest on the loan at RPI + 3% from when they take out the loan.
It is unclear which RPI figure will be used, though it is likely to be from the previous March, therefore the rate is likely to be 6.6% from when they first draw the money, though it will change in subsequent years.
Inflation figures
RPI, which includes housing costs, dropped to 3.6% in March from 3.7% in February, while the consumer price index (CPI) rate of inflation rose to 3.5% in March, from 3.4% in February.
The average cost of petrol and diesel at the pump hit a record high in March, up to £1.38 and £1.46 a litre respectively.
However, the ONS says the rise in fuel and lubricants was similar to last year, so had little impact on the rise in inflation.
The biggest upward pressure came from the softer drop in food bills, a smaller fall in recreation and culture costs and higher clothing and footwear prices.
Fruit, bread and cereals and meat saw prices rise in March, compared with falls a year ago, which hit the food category.
Elsewhere, transport costs fell on the month as second-hand car prices fell by 0.1%, compared with a 1.5% rise last year.
Additional reporting by the Press Association.