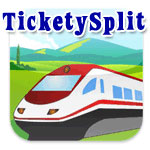 MoneySavingExpert.com's new TicketySplit app, which enables users to see if they can get cheaper rail fares by splitting their journey into different tickets, has hit the top 10 in Apple's App Store chart for free downloads in its first week.
The free app, available for iPhone, iPod touch and iPad users, has also hit number one in the travel App Store chart.
By 1pm today it had been downloaded 37,000 times.
The tool, which is also available as a mobile website for other smartphone users, homes in on bizarre hidden fare combinations to give you cheaper tickets.
Split ticketing offers massive savings on scores of routes. The following example found by TicketySplit shows how split ticketing works:
A Glasgow to Sheffield walk-on single can cost £104, with the train often stopping at Chorley, Lancashire.
So the app suggests buying a Glasgow to Chorley ticket, followed by a Chorley to Sheffield ticket.
The combined cost of these two is £60, saving you £44 – even though you travel on the SAME train at the SAME time.

What's more, split ticketing is perfectly legal, as long as the train stops in the intermediate station.
Here are some examples found by TicketySplit:
Split tickets: how much you can save?
Route
Split at
Walk-on single fare
Split walk-on single fare
Saving
Swindon to Manchester Picc
Crewe
£192
£61
£131
Bournville to Penryn (Cornwall)
Cheltenham Spa
£135
£73
£62
London Paddington to Westbury (Wilts)
Theale
£84
£27
£57
Glasgow Central to Sheffield
Chorley
£104
£60
£44
Tamworth to Weymouth
Gloucester
£89
£56
£33
Walsall to Basingstoke
Banbury
£59
£31
£28
Solihull to Reading
Banbury
£47
£23
£24
Market Harborough to London St Pancras
Bedford
£44
£25
£19
Reading to Birmingham Int
Banbury
£31
£16
£15
Cambridge to London King's Cross
Stevenage
£21
£11
£10
Correct, Tue 8 May 2012. Ticket prices vary with train travel, these are examples. Source: TicketySplit app.
How does it work?
Users just enter the journey they want to make, then the app tells them if it's cheaper to split their ticket, telling them where to split and how much they'll save.
To buy tickets, just ask at station kiosks (not machines) for the separate tickets. You can buy tickets for anywhere at any station. A guard can, however, ask you to get off and on the train, but we've only ever heard of that happening once in six years.
It's for walk-on singles
This first incarnation of the tool doesn't cover advances or returns, only 'today tickets'.
Always check advance prices too, as often they're cheaper. To split them, find where the single walk-on ticket is split as often it often yields the same result, then check prices to see if it works.
'Savings can be enormous'
Martin Lewis, creator of MoneySavingExpert.com, says: "Train fares and logic go together like pool cues and giraffes, so to really save, you need to lob the rulebook out the window.
"Quite simply, split ticketing shouldn't work. It makes no sense, yet it does work on hundreds of routes and the savings can be enormous.
"The problem has always been that finding the solution is trial and error. We've been trying to crack it for years and so it's with relief that we've finally made it with this free app and mobile website.
"My hope is it will enable even non-rail anoraks to locate these ticket combinations."