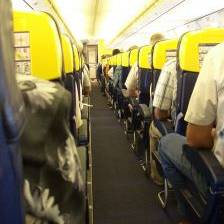 Update, 15 May, 5pm. Some passengers have reported an email from Ryanair stating it will waive its check-in fee for those unable to check in online. Ryanair's press office stuck to its guns this morning that the fee applies to all this weekend. We asked it double-check but have yet to hear back despite repeated calls. Confused? So are we. To be sure, print your boarding pass early if travelling this weekend.
Ryanair passengers flying on Friday evening or over the weekend could be walloped with a £60 per person charge, or £240 for a family of hour, if they fail to check in even earlier than normal.
The budget airline is closing its website from 10pm on Friday and all day on Saturday for an upgrade.
What's more, its online check-in service will be unavailable from 4pm on Friday.
But the airline has confirmed it will not give an amnesty to passengers who are unable to check in online and print their boarding pass themselves — even if they physically cannot do so.
Instead, it will continue its usual policy over the weekend of charging £60 per person, per flight, or €60 outside the UK, to issue a boarding pass at the airport, even though passengers may be unable to print their own.
Passengers flying on Sunday should also consider printing boarding passes before 4pm on Friday, in case work on Ryanair's website overruns. You can check in now for flights this weekend.
The airline, which has a vast list of fees it levies on top of its ticket prices, says it is contacting those travelling this weekend to inform them of the news.
However, many passengers, especially those on holiday who want to switch off by turning off emails, may not find out until they get to the airport.
'Outrageous'
Dan Plant, MoneySavingExpert.com money analyst, says: "All websites need a bit of downtime for maintenance now and then, but to wallop every unsuspecting customer with a £60 charge if they don't spot this in time is absolutely outrageous.
"Spare a thought for all the holidaymakers who have turned off emails to relax, who may not receive Ryanair's message and face having to empty their wallets at check-in.
"To not allow any exemptions for this is a spectacularly poor show."
The airline's policy states you must print off your boarding pass at least four hours before your flight departs to avoid the airport fee.
Ryanair's Stephen McNamara says: "As 'Manage my Booking' will be unavailable during this website closure, we have advised all passengers due to travel over the coming weekend to check-in on Ryanair.com before 4pm on Friday."