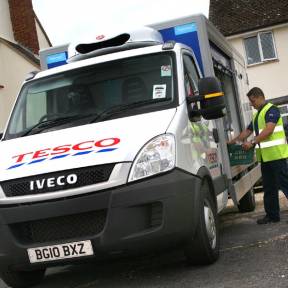 Tesco is launching a new delivery service tomorrow, which it claims saves customers on their online grocery shopping.
However, our analysis shows the Delivery Saver plan is only worthwhile for regular shoppers, most likely to be families.
Under the scheme, customers pay upfront either for three or six months for delivery, so they don't pay the per grocery shop delivery rate.
What's the cost?
This depends which option you plump for:
Three-month plan: £36
Six-month plan: £60.
You need to spend a minimum of £40 per order to qualify for a Delivery Saver order, at a maximum of one delivery per day.
What are normal delivery charges?
They're £3-£6 per grocery shop, depending on the delivery slot you pick.
Peak delivery periods, such as weekday evenings and weekends, tend to cost more.
Is it worth it?
This depends on how often you shop. Here are a few examples:
Delivery Saver: profit or loss?
Shopping frequency
Three-month plan, compared to...
Six-month plan, compared to...
£3 delivery
£6 delivery
£3 delivery
£6 delivery
Weekly
£3 saving
£42 saving
£18 saving
£96 saving
Fortnightly

£16.50 loss

£3 saving

£21 loss

£18 saving
Monthly

£27 loss

£18 loss

£42 loss

£24 loss
In a straw poll of over 1,000 on MoneySavingExpert.com creator Martin Lewis' Facebook page, nearly three quarters said they do a weekly online grocery shop, so many of those could profit.
How to sign up
You can do so on Tesco's Delivery Saver website.