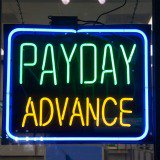 Payday lender Wonga has been ordered to stop aggressive debt collection tactics or face a £50,000 fine. In some cases it has accused debt-ridden customers of being fraudsters for paying late.
The Office of Fair Trading (OFT) has ruled against the controversial firm after it found evidence of "unjust" letters and call centre scripts sent or communicated to those on debt management plans, or where a customer was claiming back money from Wonga via their credit card firm.
This comes on the day MPs are due to vote on an amendment to the Financial Services Bill, tabled by Labour MP Stella Creasy, that would cap the cost of borrowing from payday lenders.
The OFT says the letters or e-mails suggested customers may have committed fraud "without having appropriate justification". They added Wonga would consider contacting police if customers did not do as the company asked.
Scripts stated customers with jobs in the public or financial sectors should not find themselves in debt, and that this was included in their employment contracts.
OFT has told Wonga its communications must not, unless it can be justified:
Allege a customer has, or may have, engaged in criminal conduct or refer to the consequences of such conduct.
State a customer should not be in debt.
If Wonga continues to act in this way, it faces a fine of up to £50,000.
David Fisher, OFT director of consumer credit, says: "We have acted to ensure Wonga does not behave this way again. I would like to make it clear to businesses that they must not adopt aggressive or misleading practices with their customers."
The OFT launched a review of the payday lending sector in February. It expects to announce its findings and strategy to raise standards later this year.