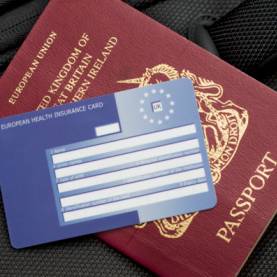 Holidaymakers who have paid for a free European Health Insurance Card (EHIC) on a site which piggy-backs on the NHS's name could get their money back — but they need to be quick.
A website with the URL nhs-direct.org.uk (or nhs-services.org.uk), which is not an NHS site, offers consumers 30 days to get a refund.
We were alerted by one MoneySaver from Glasgow who got his money back after complaining when he realised he could have applied for free.
He was immediately told by email he would be refunded, and he still got his card.
We searched the terms on three other prominent paid-for EHIC websites but could not find a refund option.
MSE warning
We have been warning consumers for years not to use a paid-for EHIC website, whether to apply for a card or renew it. The cards are issued free by the Government.
Site founder Martin Lewis appeared on ITV's Daybreak and BBC Radio 5 Live this week to reiterate the message.
What do sites charge?
Many sites that are easily found on internet search engines charge a typical £15 fee to process an application that can be done at no cost via the NHS. All they normally do is forward the application to the Government.
The nhs-direct.org.uk site even charges a minimum £1.53 per minute to call, but all that happens is you are transferred to a Government helpline (after about 40 seconds — £1-worth) explaining the charges.
The NHS says its name cannot be used in URLs as it is a "protected term". It tries to close down sites which use the NHS name, but accepts there is nothing it can do to stop operators setting up with another URL.
Martin Lewis, MoneySavingExpert.com creator, says: "Everyone needs to remember EHICs are totally FREE to get or renew.
"Never pay for them. Sadly, Google is dangerous with these sites as lots of legit but morally-dubious sites dress themselves up to charge you without any merit. Don't waste your cash."

Sites banned
The Office of Fair Trading (OFT) closed a host of websites that charged travellers for applying for an EHIC in 2010 where they tricked consumers into thinking they had to pay.
While many still exist, most sites now explain it is possible to apply for free but this information is usually less prominent than the 'service' they offer. The nhs-direct.org.uk site explains how to apply for free.
When we contacted nhs-direct.org.uk, we received the following anonymous statement: "We make it quite clear on the website that they can obtain the cards for free, we also give a phone number to obtain the cards for free along with the website.
"We are not the only company advertising our products, we offer instant email support, not like the other companies, and if anyone wants a refund it is offered immediately or within 30 days, clearly stated in the terms & conditions."
What is an EHIC?
An EHIC gives cardholders state-provided medical treatment in most European countries at the cost a local in that country would pay, which may be free.
To apply or renew for free, go to the official ehic.org.uk page. It will be valid for up to five years.
Some travel insurance policies will be invalid if you do not have one, though it is not a substitute for travel insurance.
Martin adds: "Anyone travelling to Europe (including children) should ensure they're holstering a valid card.
"Don't assume having a card means it's valid. They expire, and many people's are well past that and thus worthless.
"So check the date, and make sure you take a valid card with you, as if you can't present it when having treatment they won't accept your word."