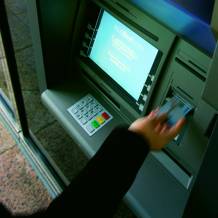 Cash machine users can donate money to charities from NatWest, RBS and Tesco ATMs from this week — but good causes will not get Gift Aid payments.
Users of Royal Bank of Scotland (RBS) group's 8,000 cash machines, which include those run by NatWest, will be able to make donations of between £1 and £150 from their accounts to eight charities.
You don't need to be an RBS customer to donate this way.
However, RBS group donations will not include Gift Aid, which is tax relief from the Government that charities get as an add-on via many donations.
The scheme went live on RBS machines today and will be rolled out across NatWest, Ulster Bank and Coutts ATMs tomorrow.
Charities people can donate to using this method include:
Cancer Research
Barnardo's
Age UK
Children in Need
The Disasters Emergency Committee
Oxfam's emergency work
RSPCA (NatWest ATMs only)
STV Appeal (RBS ATMs only)
RBS says if just 1% of the withdrawals it processes include a £1 donation, this would raise £6.5 million a year.
Tesco donations
Anyone using a Tesco Bank machine will also be able to donate from tomorrow from its ATMs in the same way, whether or not they are Tesco Bank customers. Again, charities won't get gift aid this way.
Those using the Tesco machines can give between £1 and £300 in one transaction to a choice of seven charities. They are:
Action for Children
Barnardo's
Teenage Cancer Trust
Together for Short Lives
Save the Children
Cancer Research UK
The Disasters Emergency Committee
Government drive
The moves are the first phase of a wider Government move to boost charitable giving, which is being rolled out through Link, the UK cash machine network.
One hundred million cards, making up almost every debit and ATM card issued by a major UK bank, will eventually be able to make donations through ATMs. This is expected by the end of the year.
Donations will be offered as a separate menu item on the ATM screen, or as a post-transaction option.
HSBC has allowed its customers to donate to charity through its cash machines since 2005. It says £341,623 was donated in 2010.