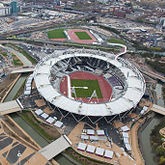 If you're heading to the Olympics or Paralympics and want to pay by card, you'll be forced to use a Visa.
Organisers won't allow anyone with tickets to the Games, which start with the opening ceremony this Friday, to pay for items or withdraw money on any other type of plastic, such as a Mastercard or American Express.
This applies across all Olympic sporting venues, and throughout the Olympic Park in Stratford, east London.
You can also pay by cash. In fact, some outlets at a limited number of venues will only accept cash.
If you don't have a Visa card and you need to spend, withdraw cash first but be sure to pay back a credit card withdrawal quickly or you'll be hit with high interest charges.
Martin Lewis, MoneySavingExpert.com creator, says: "I'm a huge fan of the Games, I'm excitedly anticipating watching the glorious athletics.
"Yet while commercial sponsorship is a part of sport, these totalitarian branding edicts come close to consigning the 'a group of amateurs coming together for the Corinthian spirit' to history.

"Visa is a perfectly useful payment processor, but to force people to have one of its cards to buy tickets and spend at the Games is a twist too far."
Branded clothes OK
You will probably get away with wearing whatever you want, contrary to some reports, even if wearing a shirt of a non-sponsor, such as Nike or Pepsi.
The London Organising Committee of the Olympic and Paralympic Games (Locog) says: "Any individual coming into our venues can wear any item of clothing, branded or otherwise.
"The only issue is if large groups come in together wearing clearly visible branding or marketing."
Locog's list of prohibited items includes "any objects or clothing bearing political statements or overt commercial identification intended for 'ambush marketing'".