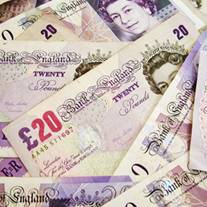 A further £50 billion was injected into the economy today as the UK struggles to pull out of its double-dip recession and the eurozone debt crisis intensifies.
The Bank of England's Monetary Policy Committee (MPC) voted to increase the quantitative easing (QE) programme – effectively printing more cash – from £325 billion to £375 billion, despite the risks it poses to the country's inflation rate.
Key Points
MPC voted to increase quantitative easing
Further £50 billion injected into economy
Blow for savers and pensioners
Meanwhile, it held interest rates at a record low of 0.5%.
The injection comes amid signs the economy deteriorated in June as industry surveys showed the construction sector went into reverse while the services sector suffered its worst performance for eight months.
Most economists think gross domestic product – a broad measure for the total economy – fell slightly in the second quarter of 2012, following declines of 0.4% and 0.3% in the previous two quarters, as the eurozone debt crisis gathers pace.
Blow to pensioners and savers
Groups representing pensioners and savers have hit out at the Bank of England's decision to unleash more emergency funding, saying banks mired in scandal would benefit the most.
The increase in QE will come as a blow for pensioners whose annuity rates are hit by the money printing, while the continued low interest rates will hurt savers.
Recent research from accountancy network UHY Hacker and Young found record low interest rates combined with the Bank's emergency support measures are causing savers to lose nearly £18 billion a year.
Saga director general Ros Altmann says the policy is keeping inflation higher than it should be, making it even harder for people to find any accounts to give them a real return on their savings.
On top of this, QE has made more than a million pensioners worse off, which has damaged growth rather than encouraged it as people have less money to spend, she continues.
Altmann adds: "With a double-dip recession, falling bank lending, large numbers of unemployed and rising borrowing costs, we must questions whether QE has had the desired effect and in fact, through its impact on annuity rates and pension funds, whether QE may have actually damaged growth."
But business leaders say further stimulus would support confidence and welcome the decision.
Further QE predicted
Howard Archer, chief economist at IHS Global Insight, says there might still be more money printing to come, even though he thinks the economy will return to growth in the third quarter of this year.
He says: "We certainly would not rule out further QE in the fourth quarter. The economy is likely to remain fragile and prone to relapses, especially if there is not any sustained marked easing in the eurozone's problems.
"So it is very possible that the Bank of England will decide that more support is warranted for the economy, particularly if inflation heads down further."
Some economists think the Bank's QE programme could eventually be expanded to £500 billion.