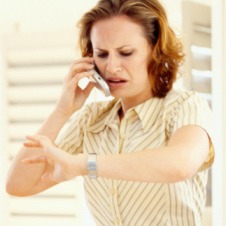 Ever felt utter frustration when you've waited all day, and taken time off work, for a non-existent delivery? Well, that seems a common source of pain among those who've waited for items from delivery giant Yodel.
The firm, which makes deliveries on behalf of well-known high street and online brands such as Amazon, Boots, Currys and O2, has been the subject of floods of complaints from angry MoneySavers on our forum and on Twitter.
We put the long list of complaints to Yodel chief executive Jonathan Smith to find out what's going on — see our Q&A below. He didn't apologise for the problems customers have faced, but did explain why some people find parcels have been left with neighbours they may never have met before.
Common problems include:
Online tracking showing packages have been signed for when they've never arrived.
Tracking wrongly stating Yodel has attempted delivery.
Parcels left with neighbours or on doorsteps without the customer's consent.
Yodel customer services unable to locate parcels.
A typical tale is that of MoneySavingExpert.com user Carrie Skinner, from Kent, who ordered trainers from Sports Direct in March.
She says a week after receiving an email saying the shoes had been dispatched, Yodel's online system said delivery had been attempted on three consecutive days and a card had been left. She insists no card was delivered.

The saga continued with the system saying delivery was again attempted when Carrie, 30, was at home. But she is adamant the doorbell didn't ring.
Carrie (right, with the shoes that finally arrived) eventually arranged to pick up the parcel from a depot – 11 days after the first delivery had supposedly been attempted.
She adds: "I never received a call from a manager or otherwise at Yodel, despite being told I would, and I never got a response to an email I sent detailing my poor experience."
We put the complaints to Yodel chief executive Jonathan Smith. Here's what he said:
We've seen numerous complaints about packages not arriving, and about the online tracking system wrongly showing packages as being signed for and delivered, or that delivery has been attempted. Why is this consistently happening?
"The overwhelming majority of these deliveries run smoothly. However, occasionally, we face challenges such as inaccessible addresses - for example, flats or gated communities - or incorrect addresses and this would result in some of the tracking scans you describe.
"While this may result in a slight delay, we will always try to find a solution and ensure a successful delivery.
"Sometimes we are instructed to leave a parcel with a neighbour or somewhere safe if you're not available. This would show as delivered. You should receive a card to tell you where it has been left.
"All of the handheld terminals that our drivers and couriers carry can be GPS-tracked. This enables us to confirm that they have been to an address to make a delivery. We do not get paid for attempted deliveries, therefore it is in everybody's interests for us to attend an address and deliver first time.
"We have strict protocols around deliveries and if we receive a complaint and establish that these have not been followed we take the matter very seriously."
Customers have complained they've booked delivery for a specific date, only for the parcel to not arrive. Why is this happening?
"In the same way that the stamp that you put on your letter indicates the service you have selected, the coding that the sender puts on the address label instructs us when a parcel should be delivered.
"As mentioned before, occasionally, we face issues that may cause a delay but we always strive to overcome them and aim to deliver the service requested."
Customers often report their parcels have been left with neighbours without their consent, that they've arrived in a poor condition and that parcels have been left on doorsteps. Again, why?
"We offer both 'proof of delivery' and 'leave safe' delivery options. If a parcel is sent via a 'proof of delivery' service we must obtain a signature.
"The retailer can stipulate whether this must be from someone at the address on the label, or from a neighbour if you are not available. With this service we make three attempts to deliver, after which the parcel is returned to our service centre to collect.
"However, if the retailer selects 'leave safe', this means they give us permission to leave the parcel in a safe location if you are out. This suits many shoppers as it increases the chances of a successful first-time delivery without the need for anyone to wait in.
"In all cases where we are unable to deliver to you personally, we leave a card either asking you to contact us to rearrange delivery or confirming where the parcel has been left.
"We have strict guidelines as to what is a suitable safe place. Parcels sent on this service should be packaged appropriately so that they are not damaged if it starts to rain.
"It is extremely rare but if a parcel is stolen we advise you to speak to the retailer so they can arrange a replacement or refund."
Customers have complained it's difficult to get through to Yodel customer services and that the numbers are expensive to call – is your call centre efficient enough to deal with all your customer queries?
"We increase the numbers in our customer service team depending on the volume of parcels in our system.
"We work closely with retailers to forecast this. However, due to the speed of the online shopping process, from basket to doorstep, we can occasionally face unexpected demand which can mean a delay getting through to an operator.
"From this autumn all calls to our contact centre will be free from a landline and our customer service can also be contacted by email and social media. You can also track your parcels online or contact the sender for advice."
Last year many consumers reported problems with Yodel specifically around the Christmas period, with presents not getting delivered until after Christmas Day. How will you stop this from happening this year?
"Last year, we delivered over 20 million parcels between 1 and 24 December. It was a record and a significant increase from previous years and reflected the massive surge in online shopping.
"Unfortunately, there were some false reports in the media regarding our service. These were untrue, caused unnecessary alarm and have since been retracted by the publishers concerned.
"This year, in the run up to Christmas 2012, we will be recruiting and training additional couriers and call centre operators and will offer a seven day a week service as standard to cope with demand."
Was Yodel already aware of any these issues?
"Most of our deliveries are made on time and without any issues. If things do go wrong, we take any complaint seriously and carry out the appropriate action to identify and resolve the issue.
"We also ensure that any necessary steps, such as retraining, are taken to prevent the issue recurring."
What will/are you doing to combat these problems?
"Good customer service is a priority. Online shopping is still a relatively new industry which is developing at a fast pace.
"We listen to both retailers and customers and are introducing a number of changes to improve the customer experience and meet further demand as the trend for buying online continues to grow.
"In addition, to extended driver and courier training, we are improving our online tracking, changing to an 0800 number for our contact centre and establishing SMS and email alerts as standard.
"We will also deliver Monday – Saturday as standard, increasing to seven days a week in the run-up to Christmas."
Can a customer switch delivery addresses?
"We would advise you to always select the best address for delivery at the time you place your order.
"We do appreciate that situations can change and allow customers to select a different address for redelivery if we are unable to deliver on first attempt."
How flexible are Yodel's delivery hours?
"We have deliveries starting at 7.30am through to 9pm and offer pre-noon, 24-hour and 72-hour services.
"We know waiting in for a parcel can be frustrating, so from this autumn you will receive a text or email alert on the day of delivery to let you know whether your parcel is due to arrive in the morning or afternoon. This was previously an optional service.
"As well as our van drivers, we also have a network of couriers who, if you miss the delivery, will keep your parcel locally and leave their mobile telephone details. This means that you can speak to them directly to arrange a mutually convenient redelivery time.
"We also offer a collection and returns service, which allows you to nominate one of over 4,700 convenience stores as your preferred delivery point. 98% of these stores are open seven days a week, from early morning until late at night, so you can pop in and pick up your parcel when it fits in with your day.
"We aim to expand this service to 8,000 stores within the next three years."
Have you been affected by Yodel delays and do Smith's answers put your mind at rest? Let us know in the discussion thread below.