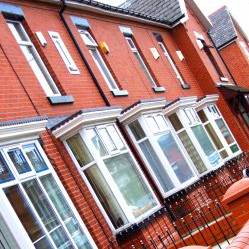 The housing market continues to "tread water", Halifax said today, after prices fell for the second month in a row in August.
The average house price was £160,256 last month, which was 0.4% lower than the previous month, cancelling out two previous rises as prices drift back to the level seen at the end of 2011.
Key Points
House prices fell last month says Halifax
Average price was £160,256 last month
Meanwhile mortgage fees risen 70% in four years
Halifax housing economist Martin Ellis says easing inflation should boost spending power and support house prices in the coming months, but adds the market is expected to remain flat heading into 2013.
Today's survey is at odds with a recent report by Nationwide which showed house prices rose 1.3% in August – their biggest monthly rebound in more than two-and-a-half years – although they remained 0.7% lower than a year ago.
House price data has been volatile in recent months amid low volumes as banks rein in mortgage lending.
Mortgage fees up 70%
Meanwhile, borrowers have seen typical mortgage fees jump by 70% to more than £1,500 in the four years since the financial crisis.
In the year before the Bank of England base rate fell to 0.5%, the average fee was £899. Financial information provider Moneyfacts says that figure is now £1,514, including an average increase of £42 in August and September.
According to Moneyfacts, the average fee on a two-year fixed rate mortgage is £1,565 while a five-year version is £1,014, based on a 25% deposit and rate of 4.19%.
Moneyfacts spokeswoman Sylvia Waycot says there is "no logical reason" why the fees charged by banks and building societies should have increased so much.
She adds: "Mortgage administration costs can't have jumped 70%. Credit searches are no more complex than in previous years, so why are fees so high?"
The mortgage fee has now become part of the price of a home loan. So always factor in the cost of any fees along with the headline rate.