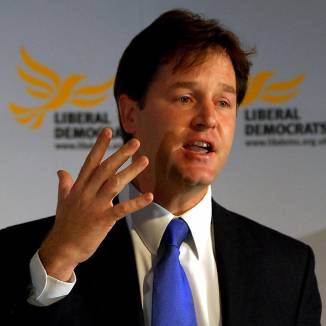 Young people struggling to buy their first home will be able to unlock their parents' retirement funds to help secure a mortgage, under controversial plans unveiled by Nick Clegg.
Clegg told the party's annual conference in Brighton on Sunday: "We have thousands of young people who are desperate to get their feet on the first rung of the property ladder but deposits have doubled and the number of young people asking help from family members has doubled.
Key Points
Pensions could be used to guarantee loans
Parents and grandparents could be eligible
Scheme could be in place by 2015
"So I can announce today that the Government is going to do something that hasn't happened before.
"We are going to work out ways in which parents and grandparents who want to help their children and grandchildren buy a property of their own, we are going to allow those parents and grandparents to act as a guarantee, if you like, so their youngsters can take out a deposit and buy a home."
Aides stressed that details of the scheme had yet to be finalised, but it will see the lump sum element of pensions used as collateral for raising home loans.
Experts' warnings
Hundreds of thousands of people could be eligible for the arrangements, which are expected to be in operation by 2015. They will lose their lump sum if the child defaults on mortgage repayments, but the rest of the retirement fund would be unaffected.
However, experts are warning the proposals risk leaving people short when they come to give up work.
Otto Thoresen, director general of the Association of British Insurers, says: "Pensions are designed to mature into a decent retirement income, not for other purposes.
"Any scheme which uses pensions as a guarantee must ensure that it does not inadvertently make the saver worse off when they retire."
National Association of Pension Funds chief executive Joanne Segars adds: "At first glance this idea leaves us feeling slightly uneasy. A pension can only be spent once and this policy could end up leaving retirees out of pocket.
"The UK already has a serious problem with people saving too little for their old age."
Pension tax breaks
Meanwhile, Clegg said it was also right to consider ending pension tax breaks for the wealthy.
He told activists: "Tax relief doesn't come free, it's other taxpayers paying their taxes to provide a tax relief for people who are much richer than them.
"Of course tax relief should exist in the pension system because it encourages savings, but there is a legitimate debate to be had now: who pays for whose tax relief."