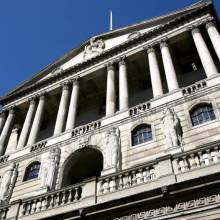 Bank of England policymakers decided against unleashing further emergency support for the recovery today, despite mixed signs over the health of the economy.
The Bank's Monetary Policy Committee (MPC) maintained interest rates at record lows of 0.5% and held its quantitative easing (QE) stock at £375 billion as it continues to work through £50 billion of asset purchases announced in July.
The no-change decision will increase focus on next month's meeting, at which most economists expect the Bank to pump more cash into the system through its QE programme, which is effectively the printing of money.
Anna Leach, CBI head of economic analysis, said: "Looking ahead to November's meeting, we think the committee is likely to favour further asset purchases. While there have been a few positive signs in recent data, underlying conditions remain relatively flat.
"Meanwhile, uncertainty around the international backdrop is likely to build further through the autumn, keeping confidence in check."
Economic recovery
But Bank governor Sir Mervyn King insisted just last week there were "a few signs" of recovery while a second upward revision of gross domestic product figures for the second quarter revealed a better-than-feared decline of 0.4%.
The bank will also be watching its funding for lending programme closely to see whether further QE is needed, with early encouraging signs for its scheme, which aims to free up the log-jam in lending.
It recently revealed 13 banks and building societies have signed up to the scheme, which provides cheaper money to lend out, and it is seeing tentative signs that credit is being boosted.
There have also been doubts cast over the usefulness of more QE, with the Bank's deputy governor Paul Tucker saying QE may be losing its "bite" and asking whether printing more money would be worth the risk to inflation.
Consumer prices index inflation has more than halved to 2.5% from 5.2% last September, but is forecast to start rising again by the end of the year, which could make the Bank cautious about pushing the button on more QE.