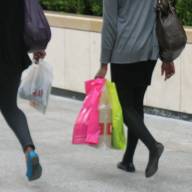 American Express cardholders shopping in London's West End this weekend can get £25 back when spending £50+ at selected retailers.
Cardholders need to register their card then spend at one of the 405 stores on Saturday or Sunday.
These include big names such as Boots, The Body Shop, Gap, House of Fraser, Next, Primark and Selfridges (where you can also get a 20% discount with a voucher).
You also get your usual level of cashback on these spends if you use an Amex cashback card (see the Cashback Cards Guide for the top deals).
Which cards can you use?
Anyone with a UK-issued Amex card where the logo is on a blue background qualifies, which is any personal credit card (including Lloyds TSB, MBNA and Virgin-issued plastic), but not corporate or prepaid cards.
You must be up to date with payments to take advantage of the offer.
Update, 22 Nov: We had some reports of problems registering Lloyds Amex cards for the offer. Amex says that this problem is now resolved and that affected Lloyds Amex customers should now be able to register their cards.
How to get the cashback
Find participating retailers. Use this Amex link to find out who is taking part. Eligible stores are on New Bond Street, Old Bond Street, Oxford Street, Oxford Circus, Quadrant Arcade, Regent Street or Royal Arcade.


Register your Amex. Go to the Amex Shop West End website and sign up.


Start shopping. To trigger the cashback, you need to make at least one transaction of £50 or more at an eligible store, but you can only get one lot of £25 under the deal.


Wait for the cash. You'll receive an email to confirm your purchase has registered. The cashback should usually appear on your account three and five days after payment, though it can take two billing periods in the worst cases.
Get multiple £5s in November at local shops
This isn't the only Amex offer on at the moment. During November, spend £5 at 1,000s of participating small retailers and you'll get £5 credited to your statement.
You need to register your card online free. For details, plus how to find included retailers, see Amex Shop Small news.