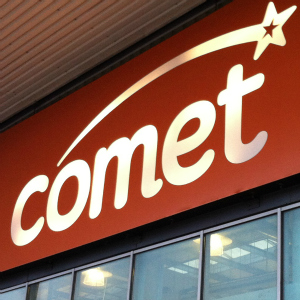 Comet has launched an in-store liquidation sale as administrators close down the failed electrical chain, but the offers are more standard sale than fire sale.
The top deals we found at its Brentford store in west London today included 30% off TV stands, 20% off toasters and 10% off tablets.
Some of its deals are beatable elsewhere, though on the plus side, iPads and Kindles, which are not usually discounted, can be bought for less (see our MegaShopBot tool to compare prices).
Comet actually topped our recent poll of easiest stores to haggle with, so try your luck to get even more off.
The table below shows a selection of the deals we found today and how they compare to other high street and online stores.
How does Comet sale compare?
Product
Comet pre-sale
Comet sale
Amazon
Argos
Tesco
TomTom Start 25 UK&ROI sat-nav
£120
£108

£105

£120
£118
iPad 2 16GB wi-fi
£329

£297

£305
£329
£327
Amazon Kindle
6in wi-fi
£69

£62

£69
£69
£69
Epson XP 202 printer
£50

£45

£45

£45

£50
iPod Touch 8GB
£150
£135

£131

£139
£135
Panasonic 32L Microwave
£160

£128

£141
N/A
N/A
Kindle Fire
£129

£116

£129
N/A
£129
Based on Comet Brentford, and online searches today
Martin Lewis, MoneySavingExpert.com creator, says: "The Comet sale is not earth-shattering – certainly there are no once in a lifetime deals. Where it does scrape a few quid off are for branded goods that are rarely discounted, such as iPads and Kindles. If you're looking for TVs or washing machines, you'll still find cheaper using comparison sites.

"It's also worth asking the question: what will happen if goods go wrong? Normally your rights are with the retailer, but if Comet ceases to exist soon, you'll be reliant on the manufacturers' warranty rather than your statutory consumer rights."
The sale is limited to its 236 physical stores, with customers unable to buy goods online.
Customers can use most gift vouchers in-store after administrator Deloitte lifted a temporary ban on Tuesday. However, if they've been issued by a company, such as an insurer, they're not valid.
Reports today suggest Comet stores could start to close from next week. Dixons Retail, which owns rivals PC World and Currys, has already moved to recruit Comet staff in temporary jobs for Christmas.
Everything must go: Comet store in Brentford today
No refunds
While there are some discounts for new customers, those who have placed orders where the item is out of stock have been left in the lurch as Deloitte is refusing to offer refunds. It will deliver items if they are available.
If you buy an item that's faulty, Deloitte doesn't explicitly say it will refuse to offer a refund or an exchange but it appears that it won't. We are seeking clarification.
See the Comet Q&A on its website for any other questions you have.
What are my rights if I don't get a refund?
If something you ordered is not delivered, or the store won't refund or exchange a faulty item, you may be able to get your money back via your credit card firm.
Make a claim under Section 75 of the Consumer Credit Act, if the item is over £100. Under Section 75 card firms are liable by law.
For full help on making a claim, see our Section 75 Refunds guide.
If the item is for less than £100 or you bought it on debit card, try the Visa or Mastercard chargeback schemes.
These are customer service promises rather than a legal requirement, so there's no guarantee of success. For more help on making a claim, see our Visa/Mastercard Chargeback guide.
If you don't get anywhere via one of these schemes, or you paid another way, you'll have to try to claim the cash from the administrator.
But don't hold out much hope of getting your money back this way, as it rarely works.
Additional reporting by Becca Talbot, Helen Knapman and Guy Anker.