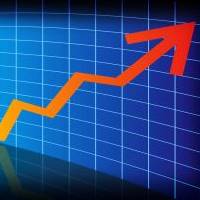 UK inflation leapt to 3.2% last month, largely due to rising university fees, food costs and mortgage rates.
The Retail Prices Index measure of the rise in the cost of living rose to 3.2% in October from 2.6% in September, according to the Office for National Statistics (ONS).
It was the largest monthly increase for two-and-a-half years.
The Consumer Prices Index, which does not include housing costs, rose by the largest amount in more than a year between September and October, up from 2.2% to 2.7%.
The ONS says the Government's move to lift the tuition fees cap from £3,375 to £9,000 was the biggest factor behind the bigger-than-expected hike.
It was far more than economists had pencilled in and marks the first time inflation has risen since July.
Inflation had fallen to a near three-year low in September, but there are fears the cost of living will continue to rise as the raft of recent energy bill hikes start to come into effect.
Rising inflation is likely to also fuel speculation the Bank of England will hold off from taking further action under its quantitative easing programme, which is the printing of money.