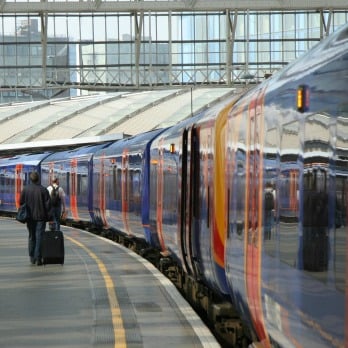 Train season ticket holders will pay an average 4.2% more next year, but a handful of commuters may turn out to be winners, it was revealed today.
Lobby group Passenger Focus has found routes where the price of train travel will actually FALL in January, or will go up by much less than the average rate.
Annual season tickets from Shenfield in Essex to London will drop from £2,720 to £2,704, while in the north-west of England, Merseyrail annual tickets from Ellesmore Port to Chester will only rise 2.3%, from £704 to £720.
However, the winners will be firmly in the minority as season ticket prices will rise by 4.2% on average.
Some could even jump as high as 9.2% as train firms are allowed 5% leeway below and above the average. So for every 9.2% rise there must be a 0.8% drop, explaining the Shenfield-London cut.
Passengers using Southeastern's routes from Kent into London will be among the worst hit, with their fares increasing 2% more than the capped national average of 4.2%.
Rises around the country
Customers buying annual season tickets to London from Ramsgate, Dover Priory and Deal will face a rise of 6.46% to £4,940 on 2 January - while their counterparts coming into the capital from Eastbourne with Southern will see their fare go up by 4.1% to £4,228.
Travellers from Llanelli to Swansea on Arriva Trains Wales will face a hike of 5.4% to £624, while the cost of an annual CrossCountry ticket from Burton to Derby goes up 3.9% to £1,268.
The fare increases — which affect 'regulated' tickets, which account for 40% of fares — would have been steeper but for Government intervention, which limited the rise to July's retail prices index (RPI) rate of inflation of 3.2% plus 1%, rather than the planned RPI plus 3% increase.
There are currently no restrictions on raising unregulated fares, which include cheap advance tickets and peak time tickets. An announcement on these prices is expected in coming weeks.
Beat the increase
Season ticket holders can beat the increase by renewing their tickets before the rises are implemented, on 2 January. If the ticket starts before that date, it'll be charged at 2012 prices.
Passenger Focus chief executive Anthony Smith says: "Passengers will feel this pain. After years of above-inflation fare rises, fresh increases are piling pressure on already high fares."
Rail Minister Norman Baker says: "Family budgets are being squeezed, so that is why this coalition Government has taken proactive steps to cut the planned fare rises from 3% to 1% above inflation until 2014.
"This decision puts an average of £45 per year back into the pockets of over a quarter of a million annual season ticket holders. Many more holders of weekly and monthly season tickets could also see lower fare rises and some commuters could be over £100 better off."