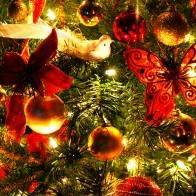 Christmas shoppers are spending less this year as consumers are tightening their belts, research shows.
The key shopping period got off to a subdued start last week, with consumer spending 2.8% lower than a year ago, research published by Visa shows.
Spending was down year-on-year last week in six out of eight categories, with spending on health and education plunging 21.4%, clothing and footwear down 5.1%, recreation and culture down 6.4% and food and drink down 3.2%.
Hotels and restaurants bucked the downward trend, recording a 3.9% year-on-year increase.
On a week-on-week basis, people increased spending by 11.9%, driven by a 25% uplift in clothing and footwear sales.
Spending was also up month-on-month in November by 0.3%, marking the third increase recorded in the past four months, although consumer spending levels were still 1.1% lower across November than they were a year ago.
Chris Williamson, chief economist at Markit, which compiled the research, says: "Household spending remains under pressure from widespread job insecurity amid high unemployment, weak wage growth that continues to be eroded by stubbornly high inflation, as well as a desire to pay off existing debt in the face of an uncertain and gloomy economic outlook."