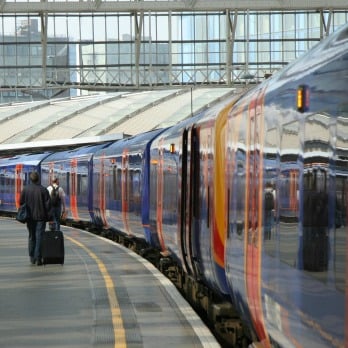 There's only a tiny window to beat the annual train and Tube price fare hikes, which could save you hundreds of pounds.
On Wednesday, train season tickets will rise by an average of 4.2%, but if you buy your ticket by the end of New Year's Day you will pay 2012 prices rather than the higher 2013 rates.
Your ticket must start on 1 January or earlier to benefit from the lower rate. However, say your current ticket expires in early January, it may be worth having two season tickets for a short time if it means paying less for the majority of the year.
It's safer to buy today, but if your local station is manned tomorrow you will still qualify for 2012's rate, so long as your ticket starts tomorrow.
Prices as a whole, not just season tickets, will rise by an average of 3.9%.
Buy season tickets now
If you commute from Folkestone to London and you buy your annual season ticket before Wednesday, you will save £224, will the price going up from £4,612 to £4,836.
The typical rises are only averages, so some tickets will go up by much more, some by less.
There are even a handful of price drops. For example, a season ticket from Shenfield, Essex to London will fall from £2,720 to £2,704.
Do the maths to find out if it's worth buying now (it usually will be). To see how much you'll pay, go to National Rail's Season Ticket Calculator and search for a season ticket to start on 1 January, then click 'back' and search for a ticket starting from 2 January.
You can buy a season ticket at staffed ticket offices. Some train firms allow you to buy one online or by phone, so check with the appropriate train company.
London hikes
Travellers who use the London Underground face rises of 4.2% on average.
An annual travelcard for zones 1-3 on London's public transport network is up from £1,368 to £1,424, an increase of £56.
Meanwhile, an annual membership fee for London's Barclays Cycle Hire — also known as Boris bikes — will double from £45 to £90 on Wednesday.
Again, buy before Wednesday to beat the rises.
More fare-saving tips
When buying any train tickets, there are more ways to cut costs. Here are our top tips (many more in the Cheap Trains guide):
Buy in advance. Most train companies put tickets on sale 12 weeks ahead, so the earlier you book, the more chance you have of getting one of their cheap advance tickets.


Two singles can beat a return. If going on a return journey, check if two singles are cheaper. This won't always be the case, but it's worth checking.


Get a railcard. Frequent travellers should consider a railcard, if they qualify for one. Those aged 16-25, the over-60s, those with disabilities and adults who travel with kids may all qualify. A railcard costs £28 a year (£20 for a disabled person) and gets the holder a third off many fares.


Split your ticket. This canny trick requires a bit more legwork, but it can pay off. Counter-logically, buying 2 tickets for one journey can save large. We found an £83 London-Wolverhampton single. Yet tickets from London-Milton Keynes, where the train stops, then MK-Wolves, cost £53 in total, saving £30. To find more quirks, use our TicketySplit iPhone app or the TicketySplit Android website.