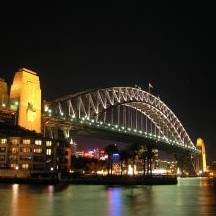 We regularly complain about high charges and inefficient banking service in the UK, but how does it compare to other countries? Former MSE senior money researcher Alana Fitzpatrick recently moved to Australia and likes the system Down Under, as she explains below.
I recently took the plunge of leaving my job at MSE in London to move to sunny Australia.
As a well a whole new life experience, I've also experienced a wholly different banking system.
My first impression is there are charges galore here, much more than in the UK. It's a shame and makes you appreciate the UK system (at least for those in credit, like me).
But Australia makes things easier for consumers by making it simpler to open an account.
Comparing the charges
In the UK, I banked with Halifax. When I applied I got a £100 sign-up bonus, plus every month I deposited over £1,000 I got an additional £5. I was careful never to go overdrawn, as I knew the charges were big. So not only was it free banking, but I was getting paid to be a customer.
In Australia it's normal to have some fees attached to your current account. In the past you'd pay a small fee for each transaction or transfer, though understandably this system wasn't popular with most Australians.
These days, a monthly fee is often charged instead. However often it's possible to avoid the charges. For example, Commonwealth Bank has monthly fees of $4-$6 (£2.60-£3.90), though they're waived if you deposit $2,000+ (£1,300) a month.
There can be other fees too. If you choose an online account, there's a charge of around $2.50 (£1.60) for each branch or telephone transaction. In-credit interest is as pitifully low, as in the UK.
Cash withdrawals are only free from your own bank's ATMs. Using another provider's machine costs around $2 (£1.30).
Another big difference is that most accounts don't automatically come with an overdraft. There are charges if you don't have the money to cover a transaction.
While I don't enjoy paying the charges in Australia, they are reasonable. In the UK, many are whacked with massive fees for breaching their overdraft limit.
Down Under, the system seems fairer for the majority of people, with most only paying a small amount each month.
However, it would be nice if you got more of the incentives UK banks offer to sweeten the deal.
Easier to open accounts
To open a standard UK current account you need identification and proof of address. While for many people this isn't a problem, it adds to the hassle, and some aren't fortunate enough to have this documentation.
Those who've just arrived in the country or who may not have access to their birth certificate (and so can't get a driving licence or passport) will be unable to successfully apply for a bank account. Plus, if you don't have a fixed address, there's no chance of having bills, so you're unable to prove where you live.
This can have a knock-on effect. If you have no bank account, it makes it much harder to settle in a country with no easy way to pay bills, get a phone contract or without somewhere to get your salary paid into.
I expected to come across issues with opening my first bank account in Australia, but I was wrong. You need one form of ID and no proof of address. The Australian government website confirms if you apply for a bank account within six weeks of arriving in the country, all you need is your passport.
The process only took 10-15 minutes. The bank adviser sent me a text message with a temporary password, so I was able to log in and view my accounts online instantly. My debit card arrived in the post five days after I applied.
The process was quick and efficient, especially with the use of email and text messaging, which the UK seems to be slower to adopt. It made me wonder why it's so much harder in the UK.
It's understandable that banks need to protect themselves and so certain checks must be made. The risk is that people open accounts, build up debts and then can't be contacted to repay them.
Should the UK copy the Australian system?
To many in the UK, the Australian accounts will seem less appealing. There are frequent small fees and fewer perks. The trade-off is that they're easier to get, seem fairer for the majority of people and could prevent some from getting into unnecessary debt.
However, it's unlikely UK banks would stop automatically giving overdrafts as they're so profitable, which means they're able to continue to offer enticements to potential customers.
If you're in credit in the UK, banking can be profitable. But it's expensive for those who are in financial difficulty.
I think the Australian system is fairer and more efficient.