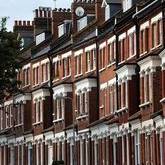 Nearly two-thirds of landlords are planning a rent freeze in 2013, showing signs that rents are reaching their limits of affordability, a study said today.
Property search site Rightmove found 61% of landlords are planning to hold rents in 2013, while a quarter plan to put prices up.
Of landlords planning increases, around a third (35%) plan to put them up by more than 5%.
Only 1% of landlords plan to cut monthly rents.
Average rents are set to rise by around 2% next year, much less than the 4.5% annual increase typically recorded for the last three years, according to Rightmove.
However, its findings also suggest the proportion of tenants "trapped" in the rental sector because they cannot afford to buy a home is at its highest, at 59%, in at least three years.
'Vicious circle'
Rightmove also found existing tenants typically spend 39% of their take-home pay on rent, while just over a fifth (22%) see more than half of their income swallowed up by rent.
Miles Shipside, director of Rightmove, says a "vicious circle" means people are unable to get out of the rental sector because rising rents are squeezing the sums they can save for a deposit.
As more people remain in the rental sector for longer, demand is pushed up further, leading to further rent increases.