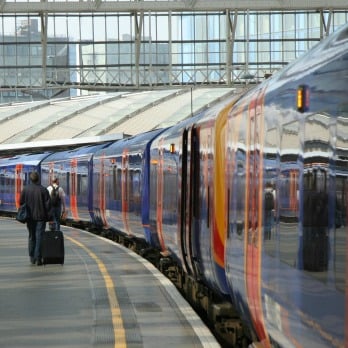 Commuters have today been told of the full scale of train price rises that come into effect next month.
The Government announced in October that regulated fares — season tickets and off peak fares — will rise by an average 4.2%.
Today, the Association of Train Operating Companies (Atoc) said prices as a whole will rise by an average of 3.9%, including non-regulated tickets.
Many commuters face much steeper hikes as the figures above are only averages.
Regulated fares can rise by an additional five percentage points, making a 9.2% rise possible. But by the same token, they can go five percentage points the other way.
Lobby group Passenger Focus has found routes where the price of train travel will actually FALL from 2 January.
Annual season tickets from Shenfield in Essex to London will drop from £2,720 to £2,704, for example. However, the winners will be firmly in the minority.
Above-average rises include season tickets from Folkestone to London (up 5.98% to £4,888), Canterbury to London (up 5.9% to £4,860) and Tonbridge to London (up 5.2% to £3,796).
All 2013 prices are now on the National Rail website. Season ticket holders can beat the rises by buying tickets that start as close to 2 January as possible.
Even a season ticket which starts on New Year's Day will be charged at 2012's prices.
Michael Roberts, Atoc chief executive, says: "Railway funding can only come from the taxpayer or from the passenger, and the Government's policy remains that a bigger share must come from people who use the train."