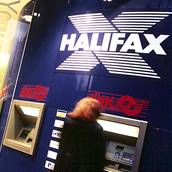 Halifax is to cut some of the benefits of its Reward current account — which pays customers £5 a month — from May, in a blow to users.
The giant will no longer pay the monthly fiver in any month if account holders go just 1p over their overdraft limit on any day in that period. This will apply even if they have an agreed overdraft set up.
On the flip side, Halifax will increase the buffer within which customers pay no overdraft charges. This rises from £10 to £50, also from 1 May.
As announced earlier this week, Halifax will also offer a 12-month interest-free overdraft on all its current accounts for switchers, but not for existing customers.
But if customers, new or old, are overdrawn, even within the buffer zone or during the interest-free period, they will not get the £5 payment that month.
What counts is their balance at the end of the day, so it will be possible to replenish funds on the same day.
Halifax U-turn
The cut in payments comes despite numerous marketing campaigns emphasising Halifax gives customers "extra" via the £5 payments EVERY month, as long as customers pay in at least £1,000 a month.
Customers currently get the payment regardless of their balance.
A marketing message on its website currently says: "Each calendar month you pay in £1,000 or more, we'll pay you £5. And that'swhether you're in credit or overdrawn."
Dan Plant, MoneySavingExpert.com web editor, says: "This is a kick in the teeth for any Halifax customers who dip a toe in their overdraft – currently, the £10 buffer protects them from charges, and they can still earn the monthly fiver.
"Even though the buffer's increased, some loyal customers will soon be denied the main feature of this account, which Halifax has always shouted about."
Overdraft charges outside the buffer, which won't change, are steep. They are £1 per day for those up to £2,000 overdrawn, £2 per day between £2,000 and £3,000, and £3 per day for all others.
Other cuts
In other changes from 1 May, Reward current account customers with fewer than two direct debits in place will be moved onto the bank's standard current account, which does not pay £5 per month.
If they do not fund the account with at least £750 a month, down from the current £1,000 minimum, they will remain on the Reward account but will not get the £5 credit.
A Halifax spokesman says: "We are writing to existing customers and giving them nearly two-and-a-half months notice of the change.
"By reducing the minimum funding requirement, more people will be eligible for this account."