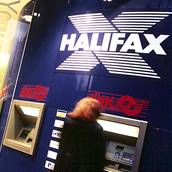 Halifax has launched the longest fee-free overdraft, but the deal is limited to those with good credit records, while there is a sting in the tail once the 12-month offer ends.
Customers who switch to the banking giant between today and Sunday 3 March will pay nothing to use their overdraft for a year. They will also get a £100 sign-up bonus.
However, Halifax will credit-check customers, and this will determine the size of the overdraft available to them.
For those with the best credit scores, the maximum overdraft is £5,000. There is no guarantee Halifax will match an overdraft you hold elsewhere.
The deal applies to switchers to both Halifax's Current Account and Reward Current Account. The latter also pays customers £5 a month, but requires a minimum £1,000 monthly deposit.
The catch
While a 12-month no-fees overdraft is attractive, the bank's standard charges, which are expensive, apply after the offer period.
These are £1 per day for those up to £2,000 overdrawn, £2 per day between £2,000 and £3,000, and £3 per day for all others.
Being permanently overdrawn by just £20 would cost you £365 a year.
Dan Plant, MoneySavingExpert.com web editor, says: "This is a potentially massive help to anyone getting hit every month with expensive overdraft interest or charges, giving a year's breathing room to pay down the debt.
"Yet a huge warning's required. Once twelve months are up, the fees that will smack you are horrendous. If you're doing this, it's absolutely crucial you clear the overdraft in full by that point, or move it again to somewhere cheaper."
The next best offer for those overdrawn is the 1st Account from First Direct, which currently offers customers a £100 bonus for switching, plus a no-fees overdraft of up to £250.