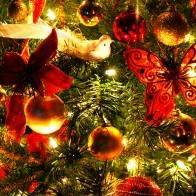 Half our users have already started their shopping for Christmas 2013, according to a MoneySavingExpert.com poll of over 11,000 people.
We asked if you've been buying presents and decorations. A huge 46% have already taken advantage of the sales to bag at least some present or extras, such as decorations.
A dedicated 4% have finished their Christmas shopping already, while the rest have done nothing.
Here is how you voted:
Have you done your Christmas 2013 shopping?
What have you bought?
% who've bought
Nothing
50%
Everything
4%
Some presents or extras...
46%

incl

A few presents
22% of total

A few extras, eg, decorations
41% of total
11,261 people voted. Of those, 603 said they don't buy for Christmas so percentages based on remaining 10,658.
MoneySavingExpert.com consumer products analyst Jenny Keefe says: "Now is the perfect time to plan next Christmas so you can have more and pay less. If you struggled to pay for Christmas just gone, work out what you spent and, if it was, say, £600, start putting £50 a month aside now. Trying to foot it from December's pay packet alone is always a struggle, and means you risk having to borrow.

"It's worth grabbing any heavily-reduced wrapping, Christmas cards, baubles, decorations still on the shelves. Also consider setting aside a special space for all Xmas goodies. Make a list of who you need to buy for, and whenever you see goods at cracking prices, buy, wrap and stuff them in your cupboard."
The large numbers who have started their shopping mirror figures from the British Retail Consortium. These show a 3% rise in sales in January compared to the same period last year.