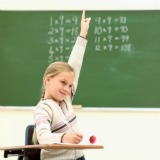 More than half of people believe being taught money education in school would have improved their financial knowledge as adults, Nationwide says.
In addition, three-quarters of Britons feel young people will benefit from being taught financial education in schools, according to a survey by the building society (see our Financial Education resources page for more info).
Last month, the Government announced financial education will be part of the compulsory national curriculum in England from September 2014.
This was after tireless work by campaigners including MoneySavingExpert.com and its founder Martin Lewis, the Personal Finance Education Group (Pfeg), and the All-Party Parliamentary Group on Financial Education for Young People, chaired by MP Justin Tomlinson.
In 2011, more than 118,000 people signed our petition on the issue, leading to the topic being discussed in Parliament, which then led to the curriculum changes.
Nationwide's Stephen Uden says: "Our research shows more than 75% of the population believe it would be beneficial for young people to be taught financial planning in schools, so it is a fantastic development financial capability will be a statutory part of the curriculum for the first time."