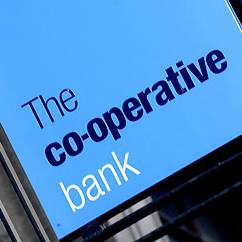 Concerns over the future of the Co-operative Bank have been raised today, but savers remain protected up to the £85,000 compensation limit, whatever happens to the firm.
Rating agency Moody's downgraded the bank last night, adding it may require "external support". Its chief executive Barry Tootell quit shortly after.
The Co-operative Bank, which also includes Britannia and Smile, reported a £662 million annual loss last year.
£85,000 protected
The downgrade means Moody's now has less faith in the Co-op's financial stability, and its ability to repay money it owes. Yet it's a far cry from suggesting the bank is near collapse.
The news nevertheless strengthens the message we've always conveyed, that it's important to know how your savings are protected, regardless of which bank, building society or credit union they are held in (see our Safe Savings guide for full info).
Quite simply, you are covered by the Government's Financial Services Compensation Scheme for up to £85,000 per person, per UK-registered financial institution, if that firm goes bust.
Spread your cash if over £85,000
So if you have more than £85,000, it's wise to spread your cash.
Importantly, in this case, the £85,000 protection applies across the Co-op bank's brands. So someone with Co-op, Smile and Britannia accounts will still only have one lot of £85,000 protection.
Dan Plant, MoneySavingExpert.com head of editorial, says: "For savers worried about safety, there's one clear message – if you've got under £85,000 combined in accounts with Co-op, Britannia and Smile, you're fully protected by the compensation scheme.
"Anyone with big savings who uses these brands should check now that they're under the limit, as well as making sure their cash is in the highest interest-paying account possible (see Top Savings)."
Co-op response
A Co-op spokeswoman says: "We are disappointed by the ratings downgrade. We have a strong funding profile and high levels of liquidity, which are significantly above the regulatory requirements."
The downgrade comes after Co-op pulled out of a deal to buy 632 Lloyds Banking Group branches last month.