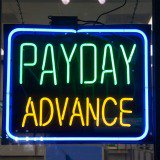 The National Union of Students is urging colleges and universities to ban advertising from controversial payday lenders on their campuses.
The NUS says the University of Northampton, Northumbria University and Swansea University have already joined its campaign and it wants others to follow their lead. (See our Debt Problems, Student Checklist and payday loans guides for help.)
Pete Mercer, NUS national vice-president for welfare, says: "Students are struggling to make ends meet and this is having a real impact on their wellbeing and their education."
Earlier this year, payday lenders were ordered to play fair or risk being banned after an Office of Fair Trading study found "explosive" evidence of irresponsible lending (See Payday loan firms told to play fair MSE News story.)
The OFT is particularly worried about lenders emphasising how quickly they can hand borrowers cash, rather than the high prices they charge for that money.
Russell Hamblin-Boone, chief executive of the Customer Finance Association, which represents major short-term lenders, says: "We fully support NUS's desire to protect its students and any efforts to drive out rogue lenders.
"But this campaign against advertising on campus will do little to tackle bad lending practice and discredits the whole industry unjustifiably."