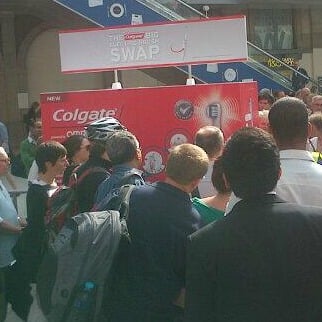 Update: Wed 10 Jul, 4.30pm: Colgate now says it will honour the offer online for 7,000 consumers, selected at random. To get an electric toothbrush, visit this Colgate web page between now and 11.59pm on Saturday 20 July and complete the registration form. Those who are successful will be emailed on 24 July. They will be given the option to send in their old electric brush via a freepost address, but they'll still get the free toothbrush if they don't do this. See the Colgate to give away 7,000 electric toothbrushes MSE News story for full details.
Red-faced Colgate has been forced to take down a stand at London's Waterloo station offering free £170 electric toothbrushes after it was swamped with bargain-hunters. It's unclear whether this promotion will run again — we've full information below.
Huge crowds formed to get their hands on the freebie this morning, but the stand couldn't cope with the rush. We featured the deal in our last two weekly emails, which would have added to the stampede.
We received multiple tweets from MoneySavers on the scene.
For example, @RoblMyers tweeted: "Awful. They've made a huge mess of it. Stall now closed. Lots of disappointed people - very poorly handled!"
@CareersDefender said: "Staff looked scared, told us to check Twitter."
@spanisheyes55 added: "Colgate brush swap at Waterloo a massive failure. Arrived at 7.30am and not giving out any brushes."
Martin Lewis, MoneySavingExpert.com creator, says: "Colgate bit off more than it could chew with this poorly-planned promotion.
"The main problem seems that it wanted to attract people but failed to do a decent risk assessment of how many it would get and how the station could cope with demand.

"Often, these promos are just for walk-by trade, but as it told MoneySavingExpert in advance and we told our eight million recipients, it was always going to be busy. We even confirmed it'd have enough toothbrushes to handle demand.

"This is a Colgate fail. In its rush, it's lost reputation and will need to find a way to make it up to the disgruntled customers who made their way there, some arriving as early as 5am."
Colgate tweeted at about 5.30pm today: "We're sorry to say that #BrushSwap won't return to Waterloo this week. We're looking at alternatives and appreciate your patience."
The picture below, tweeted by @Wenna_Paz, shows the huge crowds before the stand was closed.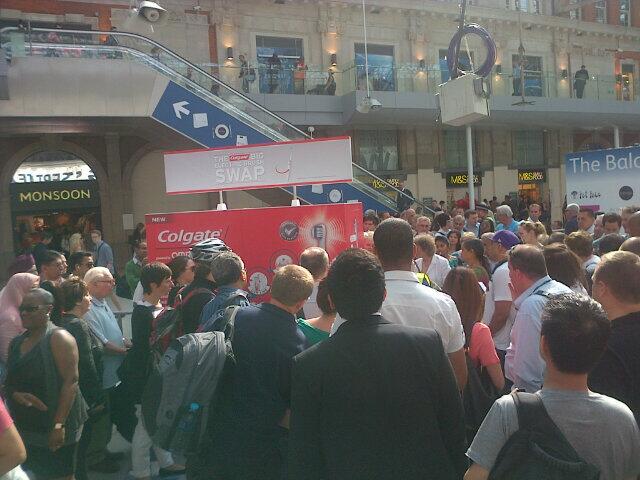 What was the £170 toothbrush?
Under the deal, you could get a free Colgate ProClinical A1500 electric toothbrush, which normally costs £169.99, by swapping any old rechargeable, electric toothbrush.
To add to the confusion, Colgate changed the day on which the swap would begin.
Initially, it was due to run at Waterloo from yesterday to Friday. But last week, Colgate changed the official start date to today. But the stand was open yesterday, after all.
Colgate has previously run promotions where you could trade in an old toothbrush for a new, electric one. They've been run via gyms, and also via Absolute Radio.