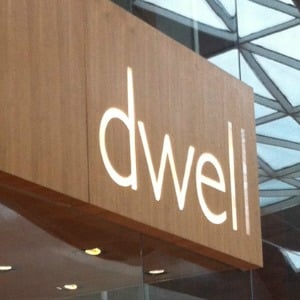 Update 16 Jul 13: Dwell says frustrated customers with faulty goods should try calling 0845 678 1010. However, there are problems getting through. MoneySavingExpert.com rang this new number five times today, and it was only answered on one occasion. We also tried the phone number for orders and deliveries five times today, and this too was only answered once. We have updated the below news story with this new information.
Dwell customers with outstanding orders still have little information on whether their items will ever turn up, despite the company having been taken over.
The troubled furniture store ceased trading and went into administration last month (see the Dwell ceases trading MSE News story) but the firm's founder, Aamir Ahmad, bought the company back at the start of July and reopened five stores and the website (see the Dwell bought story).
Dwell says some orders made before the administration will be delivered, and others won't, with no further information given. We tried to call a number set up to enquire about orders on numerous occasions but were unable to get through.
Here is a Q&A for Dwell customers, including information on faulty goods, gift vouchers and warranties.
I've got Dwell items on order. Will they be delivered?
There is no definitive answer. Some items will be delivered, others won't.
Despite our best attempts to find out, Dwell has been unable to tell us which groups of customers will get their orders delivered.
It told us the only way to find out was by calling 0845 675 9090. But when we tried on many occasions last Friday and on Monday, it rang and rang with no answer for many minutes until we were either cut off or heard an engaged tone.
We tried ringing the number again today, but it was only answered once in five attempts.
If you live near a Dwell store, try to find out from staff there if you'll get your item.
Will I get my money back if my items fail to arrive?
Customers who paid using their credit or debit card should try to claim back from the card company first as you have rights:
Credit card payments for items between £100 and £30,000. If you paid on credit card and the item cost £100 or more, even if you paid just £1 of the cost on a credit card (and the rest by another means), you are protected under Section 75 of the Consumer Credit Act (see our Section 75 Refunds guide). Here, card companies are jointly liable with a retailer if something goes wrong, if the item cost £100 or more. So if it never arrives, ask your card company for a refund.
All other card payments. If you bought goods on a debit card, or goods under £100 on a credit card, you may still be able to claim for faulty goods under the Visa, Mastercard or American Express chargeback schemes, though this only applies within the first 120 days after buying the goods. The protection is less strong than Section 75, but it's certainly worth a try.
You will almost certainly need proof from Dwell that your order won't be delivered to be able to claim.
Those who paid cash that are unable to get their order delivered can contact administrator Duff & Phelps to try to get their money back. However, in truth, this method rarely yields success, so don't get your hopes up.
I need to return a faulty Dwell item. What are my rights?
Dwell says it will take back faulty items bought before the administration, but will only issue store credit and not cash refunds. This only applies to items bought in a "reasonable" time frame.
While this sounds promising, your local Dwell store may no longer exist (see reopened stores below). In this case, you will need to send items back.
There are other options if you encounter a problem:
Check if it came with a manufacturers' warranty. If so, make a claim via the manufacturer.
Did you buy an extended warranty? If so, to make a claim, contact the insurer that provides the cover.
For help with faulty goods, you can call 0845 678 1010. However, it seems there are problems getting through. MoneySavingExpert.com rang this number five times today, and it was only answered on one occasion.
Will my Dwell warranty still be valid?
Dwell warranties and guarantees sold by Dwell with items bought in-store or online are still valid, it insists.
I have a Dwell gift voucher. Can I use it?
Customers can use gift cards, but they must ring customer services on 0845 675 9090 to get it re-issued. This is the number we have been unable to get through to.
Which stores have reopened?
The following stores opened their doors again on 6 July, along with the Dwell website:
Tottenham Court Road, central London.
Westfield London (Shepherd's Bush, west London).
Westfield Stratford City (east London).
Lakeside Shopping Centre, Essex.
Barton Square, Manchester.