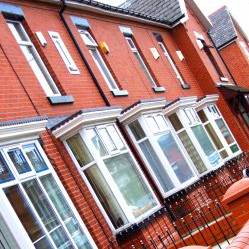 If you're looking for a mortgage, we've seen the first signs of rate rises in recent months.
This has been caused by a rise in the rate at which banks themselves borrow so they can lend to us. (See our Cheap Mortgage Finding guide for help on getting the best deals.)
Only yesterday, Principality Building Society pulled its 2.99% five-year fixed rate mortgage, offered to those who could stump up a 25% deposit (75% loan-to-value). Halifax has also upped the rate on some of its better deals.
It's not the first rise we've seen in months, but it's the first we've seen among the best buys.
The current lowest five-year fix in terms of rate is from Yorkshire Building Society at 2.44%, for 65% loan-to-value (LTV), according to broker London & Country. It adds Accord has the lowest rate for 75% LTV, at 2.89%.
Last month, MoneySavingExpert.com reported a warning that borrowers should fix their mortgage or risk paying more, on the advice of Ray Boulger from broker John Charcol.
'Fixed rates are on the floor'
Boulger says today: "Rate changes on deals which are market-leading, or very close to it, are much more relevant than changes in rates which most people won't consider applying for.
"Although over the last few weeks some fixed rate mortgage changes have been up and others down, yesterday Halifax increased the rate on its cheapest five-year fix from 2.45% to 2.69%, albeit coupled with a £500 reduction in the fee to £1,760.
"This all reinforces our recent message for borrowers, which is that fixed rates are on the floor and for most people, there is little or nothing to be gained by waiting for lower rates."
David Hollingworth, from broker London & Country, agrees. He says that although there are still some positive "tweaks" still filtering through, the pressure on fixed rates is upwards.
He adds: "Advising people to hang on for another month or two because there's going to be bumper fixed rates may well be a wasted wait, and in fact it may work the other way.
"I wouldn't be putting a lot of money on a five-year fix dropping below 2%."
Why could rates be on the up?
The warnings come after an increase in swap rates, which are the rates at which banks lend to one another. These have a direct impact on fixed mortgage rates.
Swap rates have risen by 0.19% in less than a week. In April, the five-year swap rate was 0.9%, while in July it was 1.58%. Yesterday it stood at 1.75%.