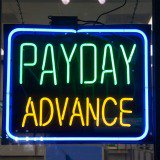 More than one in three of the payday lenders ordered by the Office of Fair Trading (OFT) to prove their practices are up to scratch have decided to quit the industry.
The OFT, which referred the industry to the Competition Commission after finding "deep rooted" problems, says 19 out of the 50 firms it investigated have decided to pull out of the payday lending market, although some may continue to trade in other areas that still need a consumer credit licence.
One other firm told the watchdog it has completely stopped lending. (See our Payday Loans guide for alternatives and tips.)
The figures were released as the Competition Commission named the three firms which have 70% of the payday loan market by turnover.
They are Wonga, Cash America – which owns Pounds to Pocket and QuickQuid – and Dollar Financial Corp – which is behind The Money Shop and PaydayUK.
The commission is carrying out its own probe into the industry, which will look at how easy it is for consumers to compare payday loans and what other choices are open to borrowers, such as bank overdrafts (see the Payday loans referred to Competition Commission MSE News story for more information).
It will reveal its provisional findings next summer, with a full report by the end of 2014.