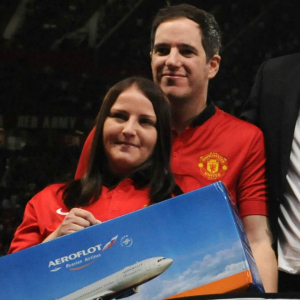 A lucky MoneySaver came top of the league on our competitions forum last week — by winning a trip for two to watch Manchester United play Chelsea, and getting to take penalties on the Old Trafford pitch.
Neither Leanne McKenna nor her partner Gavin Beale managed to hit the back of the net, but nor did the two teams in the Premier League clash, which ended 0-0.

Entering competitions, or "comping" as it's known, can be an extremely lucrative hobby - one of our users has even scooped £22,000 and a trip to New York. Hundreds of dedicated users share the latest free-to-enter competitions, offer tips and collectively drool at the potential prizes on the MoneySavingExpert.com Competitions Time board every day.

Yet while the material goods on offer can potentially boost your bank balance or street cred, the memories created by holiday or experience wins are often something money can't buy.

One story which caught our eye was in the I won! I won! I won! forum board, where lucky winners post their successes and the generous-spirited community shares in the delight.

'Nervous all week'
Leanne, from Milton Keynes, won the trip, including travel and a night's stay in a hotel, to Old Trafford on 26 August.
She says: "I was really surprised. It was one of those amazing competitions that you enter thinking 'I'm never going to win this', so when I did, I was completely shocked!

"I called Gavin as he is a huge United fan, and he did nothing but laugh in disbelief. He was on his way to work, so I like to think he skipped the rest of the way.

"We were both very nervous all week before the game — I didn't even like talking about it as it got closer. When it came to the time to do it, though, we weren't nervous at all and even had steady hands."

All Leanne had to do to win the competition was know who scored the winning penalty in 2008's Champions League final. But unlike United's Ryan Giggs, both Leanne and Gavin missed their penalties, taken against under-18s goalkeeper Dean Henderson.

"Gavin's was at least on target," she says. Neither of the teams scored either and the match finished 0-0.

"Afterwards, former defender Gary Pallister gave us a signed football and we were even allowed to keep the kits we wore."

The prize was given away by Russian airline Aeroflot in conjunction with the Daily Mail.

Getting into comping

Leanne started comping via the MSE forum earlier this year to try to win an iPad. She enters 30-50 a day and has so far won a case of cereal, a picnic hamper, and a signed copy of JK Rowling's collector's edition of Tales of Beedle the Bard.

Success isn't guaranteed, but with the right mix of hard work, careful competition selection and a little bit of luck, you could end up thousands of pounds better off, driving around in a flash new motor, or enjoying great experiences like Leanne and Gavin.

Leanne admits her dream competition win is a "complete garden makeover".

Need even more inspiration?

The biggest win we've ever seen came earlier this year when forumite yummymama scooped £22,000 cash and a trip to New York for four. Read the full story.

Leanne's top tips? "I always hit the thanks button in the forum when I enter a competition people share."

"I create folders too, so I can keep track on which competitions I can enter daily and which are weekly."
For more hints and insider info, see the 40+ Comping Tips guide.