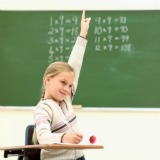 Financial education will form a part of the compulsory national curriculum in England from September 2014, it's been confirmed.
The Government published the new national curriculum last night and to the delight of financial education campaigners, it retained financial education in maths as well as citizenship education, which appeared in draft versions (see the Draft curriculum includes financial education MSE News story).
It means financial education will form part of citizenship for 11-16-year-olds and maths for 5-14-year-olds, and will be taught in all 'maintained' schools in England which must follow the curriculum. Some schools do not follow it, so financial education won't be compulsory for all.
MoneySavingExpert.com and its creator Martin Lewis have long campaigned for financial education to become part of the national curriculum (see our Financial Education page).
More than 118,000 people signed our petition on the issue in 2011, which led to a debate in Parliament on the subject.
Martin says: "If you forgive me, WOO HOO! The consultation is over, financial education is now, for the first time, an official part of the English national curriculum.
"The campaigning of so many people, including the 100,000 who signed the e-petition that forced the parliamentary debate that made this happen, has paid off. In 20 years' time, if we get the launch right, we should have a much more savvy and less ripped-off populace due to this. A boon for the country.
"However as the national curriculum is only compulsory for around half of schools – the rest, due to being free schools or academies, don't need to follow it – the campaign doesn't stop here.
"The next step is to ensure parents, teachers and head teachers of the other schools realise its importance and teach it as well, even though they don't have to. So Pfeg (the Personal Finance Education Group), the All-Party Parliamentary Group on Financial Education and I will continue to work together to try to make that happen too."
What will the national curriculum cover? Citizenship
Citizenship education aims to "equip young people with the knowledge, skills and understanding to play an effective role in public life". Pupils learn about their rights, responsibilities, duties and freedoms, as well as about laws, justice and democracy.
But from September 2014, this subject will include financial education. The national curriculum says one of the aims of citizenship is to equip pupils with the skills to "enable them to manage their money on a day-to-day basis, and plan for future financial needs".
Pupils will be taught:
Key Stage 3 (ages 11-14). The functions and uses of money, the importance and practice of budgeting, and managing risk.
Key Stage 4 (ages 14-16). Income and expenditure, credit and debt, insurance, savings and pensions, financial products and services, and how public money is raised and spent.
What will the national curriculum cover? Maths
Finance will be taught in maths at most key stages from September 2014. The exception, for Key Stage 4 maths, will come into force from September 2015 as it's still to be consulted on.
Pfeg says in primary school maths, money will be taught as a unit of measurement and in problem-solving. Statistics is also introduced from lower Key Stage 2 (ages 7-10) for the first time, which gives an opportunity for teachers to introduce financial concepts to children.
In secondary school, finance will be taught in maths through problem-solving, ratios, proportions and rates of change, but not in probability.
Money has long been used as a context in which to teach maths in schools, but the new curriculum places more of an emphasis on financial mathematics and money management. In Key Stage 3 for example, it says that pupils should be taught to solve problems involving percentage change, including working out simple interest in financial mathematics.
At present there's also no financial education as part of the national curriculum for primary school pupils.
'Extremely welcome news'
The news comes nearly two years since our petition forced Parliament to debate putting financial education on the national curriculum (see the Government to consider compulsory money lessons MSE News story).
It supported work carried out by the All-Party Parliamentary Group on Financial Education. Chaired by Justin Tomlinson, it's one of the largest groups in operation, with support from many MPs and backing by Pfeg, the UK's leading financial education charity, as well as many other organisations.
Tracey Bleakley, Pfeg chief executive, says: "This is extremely welcome news and we are pleased that the Department for Education has incorporated many of our suggestions on what financial education topics should be taught since the initial draft was published earlier this year.
"It is especially welcome to see the link between personal finance and public finances restored to the final programmes of study for citizenship education. Tax, public spending and how these relate to personal finances are all crucial areas that young people will now learn in addition to money management.
Justin Tomlinson MP, says: "Financial education is essential to making sure the next generation of consumers are able to make informed savvy decisions. I am delighted that our constructive, positive campaign with overwhelming support has rightly secured its place in the national curriculum."