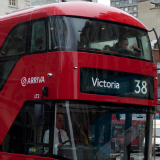 Visitors to London who plan to take one of the capital's red buses may soon have to use one of the city's Oyster smartcards, or a contactless credit or debit card, as using cash could soon be phased out.
Transport for London is asking passengers if cash fares should be abolished on its buses from next year, which it says will save money and speed up its services.
Londoners have been able to pay for bus journeys with Oyster, which needs to be topped up before travel, since 2003. Contactless cards were introduced in December 2012.
A consultation is open until 11 October, with mayor Boris Johnson due to make a final decision afterwards.
Cash tickets cost £1 more than the normal £1.40 Oyster or contactless fare, but TfL says less than 1% of journeys – 60,000 trips – are paid for with cash, and refusing to handle coins and notes could save it £24 million.
Forgotten your Oyster?
TfL says most passengers who pay using cash have either run out of funds on their Oyster or have forgotten their card. Just over a third of people who pay cash live outside London.
It says it is "investigating the possibility" of allowing passengers to go into the red on their Oyster cards for one trip to allow them to top up at their destination.
TfL's managing director of surface transport, Leon Daniels, says: "The proposals we are consulting on reflect the changing way that our customers pay for their journeys – with the vast majority now benefiting from the best possible fares and the convenience that Oyster and contactless payment cards deliver.
"It costs £24m a year to accept cash on buses and with so few customers paying cash it makes sense for us to consider removing it."
Contactless cards
Oyster cards are available from London Underground stations and many newsagents in the capital. You need to pay a £5 deposit to get one, which is refunded to you if you return the card.
Contactless cards – which have a wavy symbol on the front – will be rolled out to the Tube, London Overground and Docklands Light Railway next year, with a price cap introduced so they can work as bus passes or travelcards. TfL says 23,000 trips each day are made with the cards. (See the London bus double charge threat MSE News story.)
Other UK regions have introduced travel smartcards following the success of London's Oyster, including Merseyside's Walrus and Tyne & Wear's Pop card. Manchester's Get Me There card launches next year.