London bus passengers with both an Oyster card and a contactless credit or debit card should check their wallets to ensure the wrong plastic isn't charged, which could result in commuters paying extra.
Key Points
Passengers with contactless AND Oyster cards could pay twice
Commuters warned to keep cards separate
Tube system will accept contactless cards later in 2013
Commuters should also get into good habits before Transport for London accepts contactless cards to pay for travel on the Underground, Overground and Docklands Light Railway later this year.
The capital's bus network started accepting contactless payment cards in December, to add to TfL's existing Oyster smartcard system which commuters have been able to use for years to pay for journeys.
Contactless credit or debit cards allow users to pay for goods and services under £20 without having to enter their Pin. Users of either card touch a pad when they board the bus to make payment.
What's the problem?
The problem comes if the two cards are in the same wallet, as either could be debited.
While TfL says it is not possible for both cards to be charged, passengers who have pre-loaded bus passes or travelcards onto their Oyster could find themselves effectively paying twice if the reader detects a contactless credit or debit card first.
In one example seen by Money Saving Expert, a passenger unwittingly paid three bus fares in a week on a card without even being aware the plastic was a contactless one.
The other problem comes if the credit or debit card is charged, which could push the users into, or further into, their overdraft or over their credit limit, which may trigger bank charges.
Sometimes, the presence of both an Oyster and contactless card in the same wallet can mean neither work (see this MSE blog from last year).
To avoid these pitfalls, passengers should keep their cards in separate wallets, or take their chosen card out of their wallet to touch in, rather than press their whole wallet against the reader.
How to get a refund
TfL says it will give refunds to customers charged on the wrong card if it means they have effectively paid twice. If you have a query about your fare and want to get your money back, contact TfL on 0845 330 9876 or email oysterenquiries@tfl.gov.uk.
MoneySavingExpert.com news editor Guy Anker says: "It's important to keep your cards separate to avoid being whacked by extra charges and to actually allow you to travel, but also make sure you claim a refund if charged twice.
"I've actually fallen victim to this problem, where I couldn't get through the barrier because my Oyster and contactless credit card were next to eachother, and I have learned my lesson."
A TfL spokeswoman says about 60 people have requested refunds since the scheme launched, with all being given their money back.
How to spot a contactless credit or debit card
The UK Cards Association says all 23 million contactless cards in circulation contain a wavy symbol on the front. If there's no symbol, the card isn't contactless.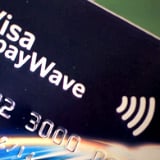 The wavy symbol, right
Contactless cards are currently used for up to 9,000 journeys a day, but that number will grow when they start being accepted on the Tube, London Overground and Docklands Light Railway later this year, with talks under way to expand their use to the capital's other rail services.
Other transport operators are likely to follow TfL's lead.
TfL director of customer experience Shashi Verma says: "When a contactless payment card and an Oyster card are presented simultaneously to an Oyster reader, bundled together in a wallet or purse, the reader will reject the tap and no payment will be taken from either card.
"There is no possibility of both cards being charged.
"However, if a customer presents a wallet with two or more cards and there is a significant time gap before the second card is detected, this can result in the first card being charged which may not be the card the customer wanted to pay with."